Plywood-over-Foam "Martha Wall" at City Cabins® Homes
Case Study: Published
|
Updated:
|
|
Seattle
,
Shoreline
,
Washington
|
2770604980
Seattle, WA, USA
Category

category_listing(s)

---

Building Type

---

Innovation

---

Jurisdiction

---

Parcel

2770604980

---

Officials

---

Team

Martha Rose | developer
.CB Anderson Architects | Designer
Matt Schmitter | Designer


---

Ratings & Awards

5-Star Built Green Certification 14

local and national awards from 2005 to 2015 2014 NAHB

Green Advocate of the Year 2015

King County Green Globe Award for Leader in Sustainability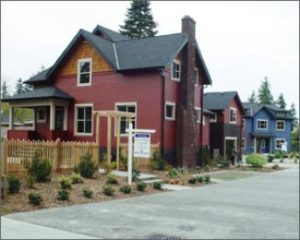 To improve thermal performance of her townhome development "City Cabins" while keeping material and labor costs to a minimum, builder Martha Rose devised a "plywood-over-foam" wall assembly designed to provide greater insulation, air sealing and thermal break.  With her engineer's stamp, City of Seattle and Shoreline have accepted her innovative design numerous times through prescriptive code compliance.
Martha designed her wall to be cost effective and feasible while creating superior energy efficiency. Since framing is usually the most expensive part of the project, Martha decided to take a page from the Seattle framers' playbook and keep it simple. When she was a City of Seattle building inspector in the 1980s she noticed they were framing four story apartment buildings with a sheet of drywall placed over the studs and under the exterior plywood sheathing.  At the time this was required to deliver one-hour fire rated exterior walls. Since it was only a slight variation of the familiar fire-rated wall, why not substitute foam for drywall and carry on as usual?
This subtle shift required no new training for the framers and was familiar to the code officials who approved it prescriptively under both 2006 and 2009 Seattle Building Code, Chapter 14 Exterior Walls.  The foam weighs almost nothing, so Martha's structural engineer had no problem with signing off on ½" of foam under the plywood. A longer nail would be necessary, but there were no structural changes to shear walls. In 2008 they increased to 1" foam board further improving the insulative effect.
More recently another builder from Portland Oregon – Ben Walsh of Green 1 Construction – commissioned seismic testing to be performed on the assembly and found: It not only meets structural shear wall code requirements, but actually improves lateral resistance up to 400%!  See related case study "Sage Green Innovates with Thermal Break Shear Wall"
| Code Requirement | Compliance Path |
| --- | --- |
| 2006 and 2009 Seattle Building Code, Chapter 14 Exterior Walls | Wall assembly is approved with prescriptive code compliance |