Commercial Potable Rainwater System at Brock Environmental Center
Case Study: Published
|
Updated:
|
|
Virginia
,
Virginia Beach
|
3663 Marlin Bay Dr, Virginia Beach, Virginia 23455, USA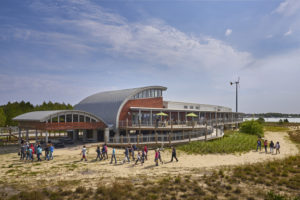 The Chesapeake Bay Foundation's Brock Environmental Center serves as an embodied ethic of environmental stewardship and a prime example of cutting-edge regenerative design in the built environment. While this fully Living Building Challenge (LBC) certified structure has no shortage of innovative features, it met state and federal Waterworks requirements to become the first commercial building permitted to collect, store, and treat harvested rainwater for potable use.
In order to meet the Imperatives for LBC's Water Petal (Net Zero Water, Ecological Water Flow), the design team knew they would need to gain the permitting necessary to harvest, store, and treat rainwater for potable use. To do this, the Brock Center became a 'public water works' as defined by the state of Virginia. State and Federal regulations require certain treatment methods and operation standards that would have violated compliance with the LBC's Red List (use of chlorine) and been untenable economically (expense of a required on-site operator). Fortunately, the Foundation hired SmithGroupJJR, the water system engineer, and Biohabitats, a water systems specialist, to consult on code navigation and act as intermediaries between the design team and the approving officials. The compliance path involved a slow but continual process of proving the safety/efficacy of the design's non-chlorine treatment process. They conceded to regulators' concerns when it came to keeping the fire suppression system connected to municipal water, and reached a compromise on a safe yet economically viable solution to the required on-site water works operator. The Brock Center's permit for harvesting rainwater for potable use was approved the same day that the building officially opened, November 14, 2014.
| Code Requirement | Compliance Path |
| --- | --- |
| Virginia Waterworks Requirementsoutline purification and operation standards for processing surface water into potable water. | 2.3.10.5 Variance Process highlights steps necessary to appeal/apply for a variance to the code. CBF was granted a variance that lowered the required classification for their on-site water works operator, and allowed for certain non-Red List materials be approved and supplemented into the system |
| Federal Safe Drinking Water Act is the overarching guideline for potable water standards and requires certain purification/operation methods be employed. | SmithGroupJJR, Biohabitats, and Paul Willey worked with regulators throughout schematic and design/build phases to meet federal standards. Municipal water would supply the building's sprinkler system, a third party water testing agency (MSA, PC) would conduct monthly quality assurance, and the requirement for residual presence of 0.2 mg/L chlorine in potable water was appealed. |