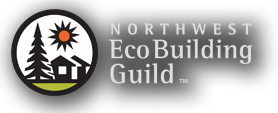 The Building Innovations Database Project
In 2016, the Database expanded to become the go-to resource for technical permitting precedent on high-performance green building innovations throughout the Northwest and nationwide.  In 2017, look for new data on adopted green codes, and new ways to use and share information.
The Database helps code officials, the building industry and the public share information about successfully permitted high-performance green building innovations, using our case studies that document code compliance for innovative designs, materials and technology.
Be a Champion of Innovation!
We're seeking community leaders who will invite others to help us!
Browse Case Studies by Category:
The Building Innovations Partnership
The Building Innovations Partnership is a group of Leading Northwest Cities, Counties and other organizations who are actively partnering with the Northwest EcoBuilding Guild, joining in our effort to empower and recognize green buiding innovators.  The Guild is now seeking Founding Members to support and participate in building the database as we expand to a national resource of incredible value 2016-2018. Please contact us to learn more about the Partnership.
Featured Innovative Project