Green Stormwater Park in Small Beachside Town Manchester, WA
Case Study: Published
|
Updated:
|
|
Kitsap County
,
Washington
|
7486 E Main St, Manchester, WA, USA
Category

category_listing(s)

---

Building Type

---

Innovation

---

Jurisdiction

---

Parcel

---

Officials

Chris May | Kitsap County
Jim Dunwiddie | Kitsap County


---

Team

Chris May | approving-official
Jim Dunwiddie | approving-official
Clint Myers | builder
Jens Swenson | Designer


---

Ratings & Awards

2016 VISION 2040 Award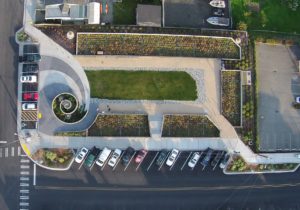 Kitsap County planners developed a vacant lot in the Manchester Neighborhood as a public gathering space with Green Stormwater Solution treatment cells for the 100-acre neighborhood. Also designed to manage a perennial stream, this project demonstrates an opportunity for development areas to treat large quantities of runoff where natural features and space are nonexistent.
In 2007, the Manchester community plan update included goals to improve park facilities and ecosystem services to the shoreline.  Kitsap County's stormwater management program gave this This Low Impact Development (LID) retrofit project priority ranking on November 24, 2014, and work began July 2015. The project reduces 91% percent of turbidity for Kitsap's National Pollutant Discharge Elimination System (NPDES) permit. Among thirty conceptual designs for this project, the application of biofiltration media in a public stormwater park was selected, designed for multiple functions including flood mitigation, public parking and gathering space. Public input was obtained to steer the process and Ecology provided $1m for the project, matched by County government allocating $2.5m from roads and stormwater programs. The Manchester Stormwater park treats the entire community's stormwater in a green facility. The high-value central location was constructed into public space including a small park and natural fountain.
| Code Requirement | Compliance Path |
| --- | --- |
| Requirements of Kitsap County National Pollutant Discharge Elimination System (NPDES)permit, says point source pollutants must reach federal clean water act specifications or earn a pollution permit. | Kitsap County installed a retrofitted stormwater filtration system into the existing hydraulic outfall improving filtration of pollutants and sediments. By demonstrating a scaled up version of the Filterra tree box system, the County earned approval and funding to install this system for NPDES compliance. |