Lyon Creek Flood Mitigation Project Restores Salmon Habitat in Lake Forest Park
Case Study: Published
|
Updated:
|
|
Lake Forest Park
,
Washington
|
4019301655
17171 Bothell Way Northeast, Lake Forest Park, WA, USA
Category

category_listing(s)

---

Building Type

---

Innovation

---

Jurisdiction

---

Parcel

4019301655

---

Officials

Erik Stockdale | Regional Shorelines Program Supervisor
Steve Bennett | City of Lake Forest Park


---

Team

Erik Stockdale | approving-official
Steve Bennett | approving-official
Kenny Booth | architect
Erik Davido | developer


---

Ratings & Awards

APWA Environmental Project of the Year 2015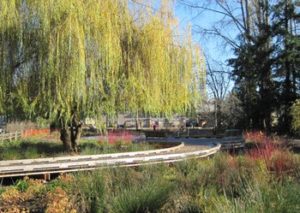 Pacific Northwest salmon sustain ecosystems we depend upon, yet road and highway culverts block them from reaching upstream nesting redds. A 2013 court decision mandates culvert infrastructure be replaced with more environmentally sound solutions. Lyon Creek Flood Mitigation (LCFM) is an award winning example of 21st-century green infrastructure improving wetland parks near a suburban shopping center.
The project goals for the Lyon Creek project were to address flood hazards and improve salmon habitat.  The habitat became a priority as Washington State Department of Transportation (WSDOT) partnered with the City of Lake Forest Park (CLFP) to design an instream flow drainage and replace four culverts. With partners at all levels of government, permitting the project met few hurdles beyond necessary land acquisitions and technical contracting details for a congested workspace.  An educational meeting and social media campaign informed the public and provided necessary public comment opportunity, and leaders were confident in the full financing of the project. They broke ground a few weeks before the state budget passed providing final funding in 2015. The design follows prescriptions for improving salmon habitat as stipulated by the Washington Department of Fish and Wildlife (WDFW) and approved by the Department of Ecology (Ecology).
| Code Requirement | Compliance Path |
| --- | --- |
| City of Lake Forest Park Municipal Code 16.16requires exemption to work in sensitive area | CLFP demonstrated a mitigation sequence to rehabilitate the area impacted by the project and compliance with all applicable state laws. |
| Washington Shoreline Management Act: RCW 90.58.080 requires Shoreline Master Plan (SMP) every ten years to inform development and activities. | CLFP's ten-year plan included Lyon Creek Project, which allowed them to apply for Federal Emergency Management Authority (FEMA) funding. Since the SMP made a commitment to maintaining, restoring, and rehabilitating the natural shoreline, it both complied with Washington code and helped earn the FEMA grant award. |
| Shoreline Management and Enforcement Procedures RCW 90.58.140(3) gives Ecology authority to permit structures using WDFW best practices guidelines. | After technical compliance and a public comment period and review, the approving official has an opportunity to issue the permit. |