Net Zero Water, Net Zero Energy Full Plane Passive House in Portland
Case Study: Published
|
Updated:
|
|
Oregon
,
Portland
|
197898
460 SW Primrose St, Portland, OR, USA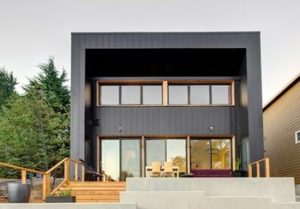 The Full Plane Passive House gives modern form and presence to the owner's ecological and social values, while providing a playful environment for her son to grow and be educated in sustainable living in the City.  To meet net-zero water goals she combined stormwater catchment, graywater irrigation for her living landscape and composting toilets.  It all complied with Oregon's statewide alternative water re-use plumbing rules adopted a decade before many other US Cities even considered it.
This project took full advantage of Oregon's innovative policies regarding water collection and reuse to permit several complementary systems, through a mostly standard plan review process with the City of Portland with almost no issues.  The underground cistern for harvesting rainwater for potable use was the only element that required a City code appeal, using a standardized appeal process authorized by Statewide Alternative Measure 08-01 in 2008, and following clear specifications defined in 2008 Oregon Specialty Plumbing Code (OSPC) Appendix M.  The home's graywater system, designed to reuse all wastewater from showers, sinks and dishwashing to irrigate an outdoor native garden, was approved by the City with the one requirement that they connect to city sewer for backup in case there was ever a problem with the distribution system. Composting toilets followed Oregon's prescriptive rules in the 2008 OSPC allowing them as long as the model of toilet is an approved manufactured or site-designed toilet, tested and approved under National Sanitation Foundation (NSF) Standard 41.
| Code Requirement | Compliance Path |
| --- | --- |
| Potable Rainwater:  Statewide Alternative Method 08-01 allowed potable use in accordance with 2008 OPSC Appendix M, through a code appeal. | Cistern for potable water was approved through a code appeal under ORS 455.060.  Architect presented plans and supporting documents showing conformance with Appendix M. |
| Graywater Re-Use for landscape irrigation has been allowed since the 1980s under OAR 340-071. Oregon House Bill 2080 fully legalized it in 2009. | Required permit from Oregon Department of Environmental Quality was granted through standard review process which pre-dated DEQ regulation OAR 340-053-0050 |
| Composting Toilets OAR 918-770-0080allows use of composting toilet listed with NSF Standard 41, and conforming with materials, installation and inspection requirements | Clivus Multrum composting toilets (listed with NSF Standard 41) were approved through prescriptive compliance |