Data 1 Building Diverts Toxic Stormwater from State Highway 99
Case Study: Published
|
Updated:
|
|
Seattle
,
Washington
|
197220-2710
744 N 34th St, Seattle, WA, USA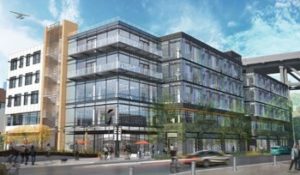 To prevent the death of endangered salmon in Lake Washington from toxic stormwater pollution, the Data 1 mixed office and retail building in Fremont Seattle, WA will divert water from the Aurora Bridge on State Route 99 into a series of bioretention cells in their landscaping. This helped win Salmon Safe certification and a Master Use permit in 2016.
Research has shown the immediate effect of polluted stormwater runoff on salmon, resulting in acute chemical exposure which kills fish in a short period of time (J. McIntyre, 2015). This project capitalized on a new development standard to address stormwater pollution with green infrastructure. Permitting followed the Design Review Board process with public discourse but few complications. Developers maximized building volume for the parcel and earned the Master Use permit through the innovative public benefit service of diverting polluted stormwater from the overhead State Route 99's Aurora Bridge to bioretention cells on their private property.
By demonstrating the design in good faith with the Seattle Stormwater Code, the City of Seattle granted a permit to connect the Aurora Bridge's drainage system with the designed bioretention cells. Additional permission was required from State transportation officials to access the water from the bridge, and also to modify the effluent into a Federal waterway. These tiered rain gardens are designed to filter 200,000 gallons of water per year. Other building features complied with local requirements, and a public comment period tuned design features to improve neighborhood character.  Public education signs throughout the site will describe how the tiered rain gardens filter stormwater toxins to benefit salmon.
| Code Requirement | Compliance Path |
| --- | --- |
| State Environmental Policy Act requires "Determination of Non-Significance", (DNS) issued if officials determine there will be no probable significant adverse environmental impacts | Data 1 complied with SEPA regulations  by demonstrating compliance with the Stormwater Control Manual and incorporating a green roof and the engineered rain garden featured in this study. |
| Seattle Stormwater Code requires projects to meet the requirements of the City's Non-Point Discharge Elimination System permit (NPDES) | The permit was issued by Seattle to the property owner to divert stormwater from the overhead highway to the landscape feature as part of the effort "liberally construed to accomplish" environmental remediation in Seattle. |