Fire Safety in 8-storey CLT Wood Innovation Design Centre
Case Study: Published
|
Updated:
|
|
Canada
,
Prince George
|
3333 University Way, Prince George, British Columbia V2N 4Z9, Canada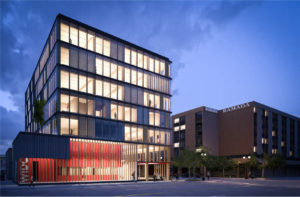 Located in Prince George, British Columbia, at the time the six-storey, eight-level Wood Innovation Design Centre was the tallest multi-use wood building in North America at 29.5 meters (97 feet) tall. It is built from cross-laminated timber panels that have inherent fire-stopping qualities in order to demonstrate that tall wood buildings can be safe, cost-effective, and beautiful, while meeting the Provincial Government's goal to push the limits of innovation beyond what was normally allowed by BC Building Codes.
For this project, the BC Provincial Government adopted a Site-Specific Regulation (SSR) specifically authorizing this one building to be built as a demonstration project, and directing the use of Alternative Solutions to meet fire code safety and other requirements.   Keys to success were a clear vision for the project and the use of "alternative solutions" including physical testing for fire safety code compliance, while entrusting its execution to an experienced design team, a rigorous peer review process and a trusted general contractor. To achieve compliance, the project team used creative ways to satisfy the fire safety of walls, floors, ceilings and exterior cladding for a building structure made entirely of wood.  For example, to preserve the beauty of bare wood on interior ceilings, they used a floor system with two layers of CLT running parallel to each other laid with gaps between them to create an all-wood structural section with recessed channels where utility chases, fire and acoustic protection and equipment could be hidden and wood's beauty retained.  This innovation and others were approved as alternative solutions.
| Code Requirement | Compliance Path |
| --- | --- |
| 2012 BC Building Codes for Fire Safety (3.1-3.2) | Alternative Solutions compliance path authorized by Site-Specific Regulation SSR M.203 that specified building height and occupancy specifically for this building; substitute language and authority for alternative solutions adopted by signature of Minister. |
| Building Fire Safety requirements, Sec. 3.2.2.24 Group A, Division 2, up to 6 Storeys, Any Area, Sprinklered; and 3.2.2.57 Group D, up to 6 storeys, Sprinklered | Design team developed an alternative solution conforming to substitute language in SSR M.203 that specified test requirements for use of combustible construction material in floors, mezzanine, load bearing members and exterior cladding. Their solution was approved after fire-testing was conducted which satisfied those requirements. |