Continuous Mineral Wool Insulation-Blakeley Manor
Case Study: Published
|
Updated:
|
|
Seattle
,
Washington
|
925049417
Blakeley Manor, Burke-Gilman Trail, Seattle, WA, USA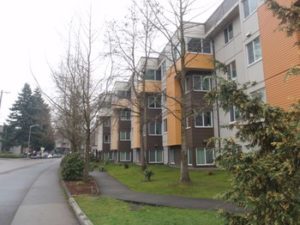 The Blakeley Manor project was one of several similar projects consisting of a full exterior wall rehabilitation to improve building envelope performance of an existing 4-story 70-unit senior housing facility owned and managed by the Seattle Housing Authority (SHA).  Existing exterior wall cladding of stucco installed over wire lath and building paper was removed and replaced with an innovative assembly of new plywood sheathing, continuous, higher density mineral wool insulation covered with fiber cement siding to provide 1-hr fire rating for both "outside-in" and between floors.  This was reviewed and approved through a code modification request.
The retrofit project was done to improve the waterproofing, air barrier, and thermal performance of the wall assembly.  However, a surprise interpretation by Seattle DCI required the wall to meet a 1-hour fire rating from both inside-out and outside-in, so the design team altered their original assembly by eliminating 2×4 vertical furring strips and installing a continuous 1 ¼" thick higher density mineral wool insulation layer over the liquid WRB/AB and plywood sheathing.  Their innovative approach increases fire safety, and provides potential improvements in thermal performance.  To gain approval, they submitted a Code Modification Request for showing their alternative method met the intent and purpose of the code for this project.
| Code Requirement | Compliance Path |
| --- | --- |
| 2006 Seattle Building Code Section 720 Fire Resistance Rated Assemblies, Subsection 721.6 Wood Assemblies | Code Modification Request with analysis showing the proposed assembly alternate was the equivalent of a 1-hour rated wall as calculated from the outside to the inside |
| 2006 Seattle Building CodeSections 104.9 & 104.10 | Allows introduction of alternate materials, systems and methods which the code did not anticipate, to provide an equivalent solution. |
RDH as the Architect of Record provided a code analysis contending that our proposed assembly alternate with continuous mineral fiber insulation in lieu of the discontinuous insulation was the equivalent of a 1-hour rated wall as calculated from the outside to the inside and between floors. GGLO as the design architect, who had submitted all previous joint RDH/GGLO SHA projects for permit, scheduled a meeting with Mr. Kaveh Aminian of the City of Seattle DCI. Sam Packard of RDH and Amy Hartwell of GGLO were in attendance. The Code Modification Request (CMR) was presented and discussed at the first meeting and was received by Mr. Aminian for further SDCI review. In a subsequent meeting with Amy Hartwell of GGLO, the CMR was approved with the added condition that, in order to increase the fire resistance of the wall assembly, they increase the density of the proposed mineral fiber insulation from 4.4lb /cu ft to 8.0lbs/cu ft.