Extended Eave w/ Sprinkler Protection at Ankeny Row*
Case Study: Published
|
Updated:
|
|
Oregon
,
Portland
|
673338
2527 SE Ankeny St, Portland, OR, USA
Category

category_listing(s)

---

Building Type

---

Innovation

---

Jurisdiction

---

Parcel

673338

---

Officials

Jody Orrison | Bureau of Development Services


---

Team

Dylan Lamar | contributor
Designer
Jody Orrison | approving-official
Chris van Daalen | contributor
Mary Stewart | contributor


---

Ratings & Awards

Designed to Passive House standard

FSC-COC certification Earth Advantage Platinum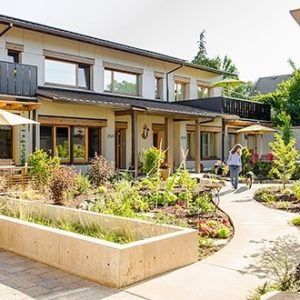 Ankeny Row is an environmentally-friendly, socially engaging cohousing community in Portland, Oregon with five townhomes, a loft apartment and a community hall surrounding a central courtyard. A Passive House development with a net-zero energy goal, the buildings use an airtight super-insulated building envelope, innovative heat recovery ventilation and passive solar strategies to sharply reduce energy demand.  Extended 48" deep eaves that shade the large south facing windows on the topmost floor, and a combustible material wood deck were approved after two successful code appeals, by including fire sprinkler protection.
An unenclosed eave with 48-inch projection at a common property line would normally be prohibited by fire safety code provisions, but was approved through a code appeal by placing sidewall sprinklers below the eaves, providing coverage of the eave for more than 3ft in each direction.  The combustible deck material was also approved through a code appeal based on placement of sprinklers.  The sprinkler system is certified NFPA 13D compliant.
| Code Requirement | Compliance Path |
| --- | --- |
| 2011 Oregon Residential Specialty Code section R302.2.4.4 requires unenclosed eave of a townhouse within 3 ft of assumed common property line be limited to a 24 inch projection. One hour fire resistive protection is required. | 48" unenclosed eave approved through a city code appeal, by showing design includes NFPA 13D sprinkler system with 3-foot coverage |
| 2011 ORSC R302.2.2.2.3 Requires non-combustible or heavy timber deck within 3ft of assumed common property line when not adjacent to | A second code appeal to approve combustible decks allowed because of sprinkler coverage |