Undersized Heating System with DHP & HRV at Far Reach Home
Case Study: Published
|
Updated:
|
|
Thurston County
,
Washington
|
Thurston County, WA, USA
Category

category_listing(s)

---

Building Type

---

Innovation

---

Jurisdiction

---

Parcel

---

Officials

Rowland Zoller | Thurston County


---

Team

Rowland Zoller | approving-official
Eileen Ryan | owner
Scott Bergford | builder
Peter Bergford | Designer


---

Ratings & Awards

5 Star Built Green EERE's Builders

Challenge (HERS 39) rating Energy Star certified EPA

Indoor airPLUS Qualified Home Silver EVHA Award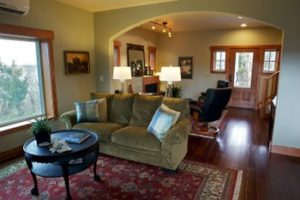 This home's exterior envelope was constructed entirely from SIPs, and the interior was heated with a Ductless Heat Pump and included a Heat Recovery Ventilator for indoor air quality, all resulting in an extremely airtight, energy efficient non-standard home. While no building codes were ignored, the home incorporates several systems many building officials may be unfamiliar with.
This technology was permitted as a part of the home's larger, airtight design. This home is constructed from Structural Insulated Panels and only requires 7800 BTU to heat, however the smallest DHP available produces 21000 BTU. Thanks to much education, the building official was willing to permit this technology, understanding that despite challenging the code, this solution was the most efficient for the home's overall design.
Heat Load Calculations were required before a permit could be issued. Because the plans called for only one heater, the Permitting Official had to submit due diligence to ensure the health and well-being of the occupants.