Sandoval Masonry Heater
Case Study: Published
|
Updated:
|
|
Lacey
,
Washington
|
Lacey, WA, USA
Category

category_listing(s)

---

Building Type

---

Innovation

---

Jurisdiction

---

Parcel

---

Officials

Jeff Cook | City of Lacey


---

Team

Jeff Cook | approving-official
Poppy Sandoval | owner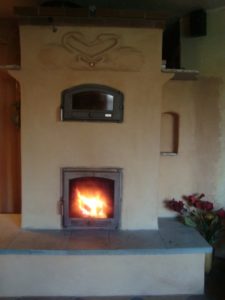 Replacing an old and poorly installed fireplace resulted in the construction of a handcrafted brick and plaster masonry heater. The owner/builder faced fire hazard concerns, structural hurdles, and indoor air quality standards but used hands-on experience and an extensive support network to see the project become the centerpiece of her household.
The non-standard, owner designed & built project was permitted through the City of Lacey, with a critical approval from the Wood Stove Coordinator in the Air quality program at the Dept of Ecology, Rod Tinnemore. Numbers had to be provided showing the heater's smoke output would be within safe levels. Jeff Cook, from The City of Lacey inspected the project 4 separate times at critical points in the process. A structural engineer and a chemist at Mutual Materials were consulted regarding a variance on the 12" foundation. The project followed the ASTM E1602-03 guidelines in addition to the 2006 IRC Code Section R1002.