Historic Homes recycled for Affordable Housing in Friday Harbor
Case Study: Published
|
Updated:
|
|
Friday Harbor
,
Washington
|
351349615001-351349615014
473 Grover St, Friday Harbor, WA, USA
Category

category_listing(s)

---

Building Type

---

Innovation

---

Jurisdiction

---

Parcel

351349615001-351349615014

---

Officials

Mike Bertrand | Town of Friday Harbor


---

Team

David Gow | owner
Peter Kilpatrick | builder
Nickel Bros. | Specialty Contractor
Mike Bertrand | approving-official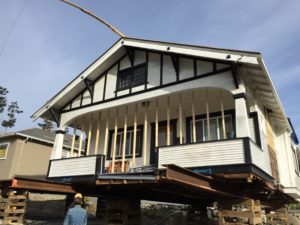 San Juan Community Home Trust (Trust) recycled twelve homes with historic character for the second phase of the Sunrise permanently affordable housing development. The neighborhood features reclaimed homes from Victoria, Canada moved by barge and track vehicle to their current locations in Friday Harbor, Washington. Homes were inspected by engineers for integrity before transport and permitted as renovations to existing structures.
All structures moved into place at Sunrise II were considered existing structures, so only needed permits for updates and renovations. This required approved foundation plans, utility rough-in inspections and permits for decks and outdoor walkways. Because the homes were constructed prior to 1940, they had "stood the test of time" according to permitting official Mike Bertrand. This reduced some planning phase work including drafting blueprints. By working with a firm out of Vancouver, BC that specializes in moving homes over water – Nickel Bros. – local firm Ravenhill Construction gained experiencein home recycling, moving from Victoria to Friday Harbor, learning to identify engineering best practices for longevity and structural integrity. The 12 units are considered condominiums within the three phase Sunrise development on the edge of Friday Harbor on land owned by the Trust and approved in a multi-phase development of 120 units.
| Code Requirement | Compliance Path |
| --- | --- |
| 2012 Washington Residential Code, section 102.7.2 requires moved buildings to comply with all codes, except if the use classification is unchanged, and the original building is not substantially remodeled. | Homes were existing moved structures without substantial remodel, so building officials required developers to follow the town building permit guidelines for foundation planning, rough in utilities, and exterior features including decking; but other requirements did not apply due to exception in 102.7.2. |