Sanden CO2 Refrigerant Heat Pump Water Heater at FutureFit Home
Case Study: Published
|
Updated:
|
|
Oregon
,
Portland
|
10447
Portland, OR, USA
Category

category_listing(s)

---

Building Type

---

Innovation

---

Jurisdiction

---

Parcel

10447

---

Officials

Terry Whitehill | Bureau of Development Services


---

Team

Tad Everhart | owner
Maho Ito | Other
Mike Elrod | subcontractor
Jonathan Cohen | subcontractor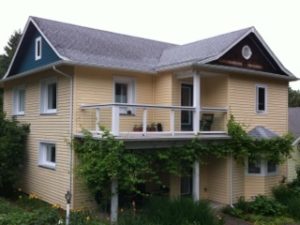 Residential heat pump domestic water heating systems (HPDWH) use synthetic refrigerants with high global warming potential (GWP).  In the 1990s, Japanese engineers developed an alternative HPDWH technology known as "Eco-Cute" that uses CO2 for refrigerant, a naturally occurring gas with global warming potential (GWP) 2,000 times less than synthetic. Oregon's plumbing code requires hot water heating systems to be tested and listed by an approved agency (such as Underwriters Laboratories UL).  Although it is not yet UL listed, the City of Portland allowed us to install the CO2 HPDHW system as an alternate material through its Alternative Technology Advisory Committee process.
There were two steps in the process.  First, The ATAC heard our testimony and reviewed our evidence and recommended our technology.  Second, the building official granted our appeal and permitted us to install a Sanden Eco-Cute. The entire approval process took just over two months.  We submitted our written application and the required $150 fee to the ATAC.  Within one month ATAC held a hearing on our application and allowed our in-person testimony.  Within two weeks, ATAC informed us that it would recommend we be allowed to install our system, and it gave us a written recommendation and posted it on its website.  We then submitted our written building code appeal and the required $100 fee, and within one week, the City of Portland informed us that our appeal was granted and posted the appeal summary on its website.
| Code Requirement | Compliance Path |
| --- | --- |
| 2011 ORSC section M1302.1 Requires appliances to be listed and labeled by an approved agency (e.g. UL) | City of Portland building code appeal based on ATAC's recommendation (see below); administrative ruling by City staff, followed by written, online approval. |
| 2011 ORSC section R104.11 allows alternative materials, design and methods of construction and equipment when the material or work offered is equivalent | Written application to City's ATAC, ATAC in -person hearing, and ATAC's written recommendation to approve.. |