Kitchen Exhaust Ventilation with HRV at Ankeny Row
Case Study: Published
|
Updated:
|
|
Oregon
,
Portland
|
9956
1477 NW Everett St, Portland, OR, USA
Category

category_listing(s)

---

Building Type

---

Innovation

---

Jurisdiction

---

Parcel

9956

---

Officials

Jody Orrison | Administrative Appeal Board, City of Portland


---

Team

Dylan Lamar | Designer
Jody Orrison |

---

Ratings & Awards

Earth Advantage Home Certification – Platinum Level and Earth Advantage Net Zero Energy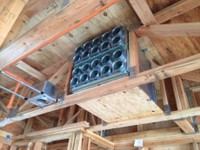 Green Hammer's Ankeny Row homes meet the Passive House Standard with whole-house, balanced, continuous ventilation with heat recovery.  This ventilation system includes an exhaust vent located in the kitchen. Code requires a direct-through-envelope, intermittent operation, high-volume range hood exhaust system.  On appeal, Green Hammer demonstrated the passive house ventilation system is environmentally superior because it provides more ventilation than the code requires as well as heat recovery for greater energy efficiency.  The City of Portland allowed this ventilation system as "an alternate method/material."
The building code requires direct, through-wall/roof, high-volume kitchen ventilation.  This ventilation requirement would result in significant heat loss, which is inconsistent with our passive house ventilation system and makes it difficult to meet the passive house airtightness requirement.  We filed a written code appeal including our reasons for and evidence in support of our alternative ventilation system with the building official and obtained approval of our kitchen ventilation system as an alternative means of providing code-required kitchen ventilation.  We demonstrated that our system would provide more ventilation than the code required, it was safe, and it was environmentally superior.
Code Requirement
Compliance Path
2011 ORSC section M1503.4Domestic kitchen cooking appliances shall be equipped with a ducted range hood
Architect/builder submitted written building code appeal with supporting information and fee.  Administrative hearing decided by City staff who posted written approval online (see appeal item 3)
2011 ORSC section M1503.1Range hoods shall discharge to the outdoors through a single-wall duct.