Positive Impact Development at Clearwater Commons
Case Study: Published
|
Updated:
|
|
|
27051800401300
1402 194th St SE, Bothell, WA 98012, USA
Category

category_listing(s)

---

Building Type

---

Innovation

---

Jurisdiction

---

Parcel

27051800401300

---

Officials

Mike McCrary | Building Official and Fire Marshall
Randolph Sleight | Plan Reviewer


---

Team

Tom Campbell | owner
Mark Buehrer | Designer
Chad Port | architect
Randolph Sleight | Sloan Ritchie |

---

Ratings & Awards

2016 Livable Community Award – Futurewise 2016 5 Star Built Green Certified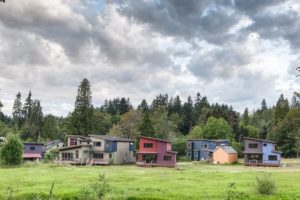 A decade before the Washington State Dept. of Ecology made low-impact development (LID) the "preferred and commonly used method" for on-site stormwater management, Clearwater Commons LLC took advantage of a voluntary LID compliance path pioneered by Snohomish County from 2000 – 2005.  In 2006, this tight-knit group of families embarked on a 6-year journey to design and permit their intentionally eco-friendly neighborhood, located on an ecologically sensitive site with wetlands and North Creek a salmon-bearing stream, using multiple techniques in combination for a net-positive result.
By taking a comprehensive approach – using permeable pavers and porous concrete, narrow road widths, minimum excavation "pin" foundations, raingardens in the right-of-way, and stream restoration – they went beyond low-impact to make a positive impact for water quality, wildlife and the environment.  By taking the optional LID compliance path and an integrated, comprehensive approach to infiltrate all stormwater on-site, they eliminated a stormwater detention pond and other traditional "grey" infrastructure drainage. This gain in buildable land, combined with a zoning change to high density residential, allowed them to add 7 housing units to their cohousing community previously platted for only 9 units – yielding a significant increase in the asset value of their development (added 2-4 units by LID-elimination of detention pond).
Yet, for each innovation that deviated from standard development code and approved engineering designs, their plans had to go through various modifications with multiple agencies.  Each had to be reviewed by regulators, corrected by the design team sometimes through multiple iterations, in order to be approved by an internal deviations committee (Snohomish County) or other officials. Everyone had a steep learning curve, which added more than a year and significant cost to the permitting process.  Not to be deterred, applicants and regulators worked together through all the issues to put the project vision into action – and celebrateed their grand opening on April 21, 2012 during the NW EcoBuilding Guild's NW Green Home Tour!