Emerald Star Home is Net-Positive Energy in Seattle, WA
Case Study: Published
|
Updated:
|
|
Seattle
,
Washington
|
2767603125
1749 NW 61st St, Seattle, WA 98107, USA
Category

category_listing(s)

---

Building Type

---

Innovation

---

Jurisdiction

---

Parcel

2767603125

---

Officials

John Siu | Dept. of Construction and Inspections


---

Team

Anthony Maschmedt | developer
Tadashi Shiga | Verifier
John Sui | approving-official
Patrick Beaulieu | approving-official


---

Ratings & Awards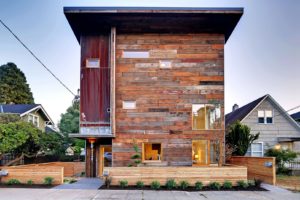 In the heart of Seattle's Ballard neighborhood, this home offers an iconic example of an advanced high-performance home.  It was the first project in Seattle, and the first speculative home, to achieve Built Green's new Emerald Star rating, and has won a raft of awards and other recognition. The Emerald Star home uses design, innovative materials and technology to achieve net-positive energy, 70% reduction in water use and 90% reclaimed and/or FSC-Certified wood.
The home was permitted prescriptively using Washington's progressive building, plumbing and energy codes, while taking advantage of the City of Seattle's Priority Green expedited permitting incentive to save four weeks in permitting time. The home's advanced yet simple rectangular design uses 12" thick double-stud wall, insulated slab and foundation, and advanced air sealing to achieve a blower door test result of at 1.17 ACH 50, which is 77% better than state energy code requirements for air leakage.  They used Chapter 17 of Washington's Uniform Plumbing Code to design a rainwater collection system, plumbed for the home's toilets, hose bibs, and cold water to the laundry. They used Sanden's innovative heat pump water heater technology (see related case studies) for both radiant space-heating and domestic hot water; and a heat-recovery ventilator to provide fresh healthy indoor air; and manage energy use with intelligent control systems.
| Code Requirement | Compliance Path |
| --- | --- |
| 2012 Washington State Energy Code required 5.0 air changes per hour or better, plus 1.5 additional energy credits for energy efficient features | Using an airtight, super-insulated building envelope, and other ultra-energy efficient features, the home exceeds Washington State Energy code requirements by 77% and was approved under prescriptive building code requirements. |
| Washington's Uniform Plumbing Code sets requirements for Rainwater Harvesting for indoor use. | Project followed prescriptive requirements in UPC Section 17. |