Inspire Apartments Living Building in Seattle, WA
Case Study: Published
|
Updated:
|
|
Seattle
|
1972202245
3825 Bridge Way North, Seattle, WA, USA
Category

category_listing(s)

---

Building Type

---

Innovation

---

Jurisdiction

---

Parcel

1972202245

---

Officials

Raymond H Jacobson | Seattle Department of Construction and Inspections


---

Team

Scot Carr | architect
Brett Phillips | owner
Aaron Barnett | Engineer


---

Ratings & Awards

Living Building Challenge Petal certification (Energy, Place, Beauty)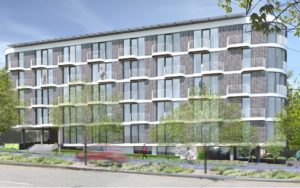 Inspire is the first multi-family dwelling in Seattle adhering to the Living Building Pilot Program, Petal Certification for reduced energy and water usage. A code modification was required to permit more efficient HRV usage with lower-than-required ventilation rates. Inspire was granted a FAR (floor area ratio) bonus as incentive for program compliance.
Normally, the ventilation rate in a conventional multifamily dwelling would adhere to a minimum intake airflow of 30 cubic feet/minute (cfm), and a minimum exhaust rate of 20 cfm in each bathroom, along with a continuous exhaust rate of 25 cfm in each kitchen. The applicable standard was the 2015 Seattle Mechanical Code Tables 403.3.1.1 and 403.4.1.1This conflicted with the existing Inspire project design plans, which only depicted bathroom airflow exhaust.
The project architect filed an official code modification with the City of Seattle Department of Construction and Inspections to waive these requirements. The request included a letter from the engineer of record, who asserted that, because the units are 320 square feet, the required level of ventilation would be excessive, causing overventilation and wasting energy. Instead, it was negotiated that the dwelling units each adhere to an air exchange rate of 30cfm, which would be provided to the kitchen/living area, then transferred to the restroom via additional ducting. This alternative compliance is in accordance with ASHRAE Standard 62.1-2010, upon which SMC 2015 is generally based. This alteration allowed an additional energy savings of 0.9 EUI, helping to ensure that the building's energy consumption remains 25% lower than the standard target, as required by the Living Building Pilot Program.
Code Requirement
Compliance Path
For

 0-1 bedrooms

2015 Seattle Mechanical Code, Chapter 4 Ventilation

requires multi-family dwelling to have 30 cfm of intake ventilation, 20 cfm of exhaust ventilation for each bathroom and 25 cfm of exhaust ventilation for each kitchen.

The exhaust requirements outlined by the 2015 SMC (45 cfm) were considered excessive for the given 320 SF space. Instead, a 30 cfm exhaust system was installed in the bathroom, and a transfer mechanism installed connecting the bathroom to the rest of the space as permitted by ASHRAE Standard 62.1-2010.
To receive

FAR and height bonus incentives offered under the

2018 Seattle Living Building Pilot Program

 participants must adhere to either the Living Building Challenge, or achieve Petal Compliance, use 25% less energy than the typical case, and use non-potable water where legally able. 

Because the Inspire project was enrolled in the Living Building Pilot Program (fulfilling Petal Compliance, along with sustainable energy and water usage requirements), they were allowed 12.5 additional feet of building height.