Bellingham Affordable Net Zero Home
Case Study: Published
|
Updated:
|
|
Bellingham
|
380223222415
Bennett Dr, Bellingham, WA 98225, USA
Category

category_listing(s)

---

Building Type

---

Innovation

---

Jurisdiction

---

Parcel

380223222415

---

Officials

Brent Baldwin | Development Manager, Whatcom County Planning & Development Services


---

Team

Ted Clifton, Jr | builder
Plumber
Specialty Contractor


---

Ratings & Awards

Energy Star, EPA Indoor airPLUS. and 5-Star Built Green certified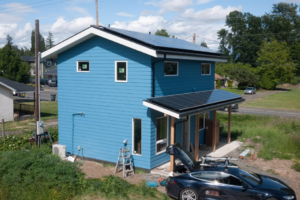 The Bellingham Affordable Net-Positive Home is a new 2 bedroom home with a Built Green certification rating of 5 stars. The building is currently housing its original residents and has reliably provided enough power to allow them to live independent of the public power grid. Energy efficient Structural Insulated Panels (SIPs) construction required a special inspection process to meet code.
Normally during building construction, the framing is put up and then inspected. However, the use of SIPs panels cover the framing before it can be inspected. To comply with the code, the inspector was required to visually inspect the base plate connections before the SIPS could be installed. An engineer was also required to inspect them and sign off that they were installed correctly. Though these problems increased the challenge in building this home, the technologies they allowed the use of were vital to achieving the goal of the home.
Code Requirement
Compliance Path
International Residential Code R610.4 SIP wall panels

SIPs for wall systems shall have a minimum panel thickness and be identified by grade mark or certificate of inspection issued by an approved agency. 

Exterior walls of structural insulated panel construction shall be designed and constructed in accordance with the provisions of Section R614. SIPs shall be fastened through both facing surfaces to other wood building components.  Use of SIPs in residential homes beyond the scope of Section R614 will require a licensed engineer to approve the build plans before construction begins.

Inspectors are generally unfamiliar with Structural Insulated Panels (SIPS).

Part of the framing that is typically inspected after installing the mechanicals but before covering the insulation is covered up, leaving it inaccessible to the inspector.
The building inspector was required to make additional site visits to inspect base plate connections before installing each level of walls.
An engineering firm was hired to approve the building plans before construction began.