Ground source heat pump at 21 Acres Farm
Case Study: Published
|
Updated:
|
|
King County
,
Washington
|
Seattle, King County, WA, USA
Category

category_listing(s)

---

Building Type

---

Innovation

---

Jurisdiction

---

Parcel

---

Officials

---

Team

Evitavonni Architecture | architect
Earthheat | subcontractor


---

Ratings & Awards

LEED Platinum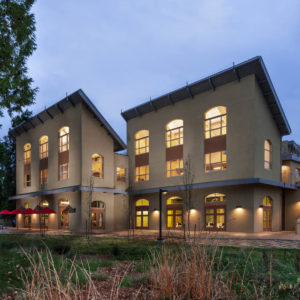 The ground source heat pump used at 21 Acres farm helped to earn them a LEED Platinum certification. A geothermal system is the most efficient and healthy way to heat a building, with minimal environmental impact and long lasting performance. The heating/cooling system uses 1/4th the amount of energy as a conventional system, and when coupled with radiant floor heating, delivers an even dispersion of heat across the floor, making it suitable for buildings with high ceilings.
The permitting process for a ground source heat pumps is reportedly easy in King county. In the case of 21 Acres, no additional grading permit was needed, as grading was covered by the building's permit. The IRC states that heat pump installation and engineering are to be installed according to manufacturer specifications and meet IRC/IBC performance standards.  In some cases it may require a SEPA review to acquire permission for excavation to install the ground source loop. A key to successful permitting is hiring a qualified installation company with adequate field expertise and complex modeling software to size and install the system properly.