Graywater Reuse in the Apartments at Bud Clark Commons
Case Study: Published
|
Updated:
|
|
Oregon
,
Portland
|
655 NW Hoyt St, Portland, OR 97209, USA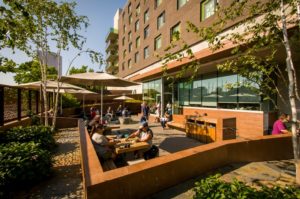 This building provides 130 transitional housing units and support services to people in Portland experiencing homelessness. It was one of the first in Oregon to treat wash water from showers, bathtubs, and residential clothes-washing machines, known as graywater, to flush toilets. It was permitted using a Statewide Alternative Method under Oregon's Specialty Plumbing Code that allows commercial greywater reuse.
The grey water system was installed per State of Oregon Alternate Method Ruling No. OPSC 08-0,4, which allows commercial projects to reuse graywater for flushing toilets and urinals. Waste water conservation under this method cannot be used for apartments or commercial buildings used for childcare facilities or school, so the team filed an appeal to clarify that the housing facility is for transitional purposes only, it does not include any childcare facilities, and it is staffed 24/7. The system was then permitted using Alternate Method Ruling by the City of Portland in accordance with the Oregon Plumbing Specialty Code.
| Code Requirement | Compliance Path |
| --- | --- |
| Statewide Alternative Plumbing Method: OPSC 08-04 for flushing urinals and toilets. Allows commercial projects to reuse graywater for flushing toilets and urinals, but not for apartments or commercial buildings which contain childcare facilities or schools. | In 2008 Oregon adopted an alternative compliance path for indoor graywater reuse. To gain approval, owners had to submit a code appeal to the City of Portland clarifying that the apartment does not include any childcare facilities |