Washington Middle School Rain Water Harvesting
Case Study: Published
|
Updated:
|
|
Olympia
,
Washington
|
84000000700
Olympia, WA, USA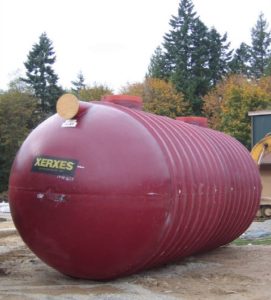 Washington Middle School installed a rainwater catchment system. There is a large fiberglass cistern in the ground used to collect rain water from the roof. This system uses the water from the cistern to flush toilets throughout the school. Although no permits were obtained for the school to install the system, the catchment system was installed as part of the Washington State Senate Bill 5509.
Olympia School District did not apply for a non-potable water reuse permit with the City of Olympia.  However, if they had applied for this permit, Chapter 16 of the Uniform Plumbing Code would have been what they would have to show compliance with.   Likely, they were allowed to install the rainwater catchment system without a permit under Washington Senate Bill 5509, which requires all state buildings of that size to meet LEED standards.
Approval Process
Instead of applying for a Non-Potable Reuse permit with the city of Olympia, they instead decided to pursue compliance through Washington Senate Bill 5509, which seems to have worked.