Commercial Composting Toilet at Lewis & Clark College
Case Study: Published
|
Updated:
|
|
Oregon
,
Portland
|
991270260
Portland, OR, USA
Category

category_listing(s)

---

Building Type

---

Innovation

---

Jurisdiction

---

Parcel

991270260

---

Officials

McKenzie W. James | City of Portland; Bureau of Development Services


---

Team

Amy Dvorak | owner
Lewis & Clark College | owner
McKenzie W. James | approving-official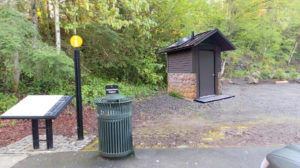 A composting toilet (M54W Trailhead) will be installed on the campus of Lewis & Clark College in Portland, OR. Composting toilet systems generally provide a lower cost, lower impact option for restroom locations lacking existing access to utilities or in areas where improving access would be prohibitively expensive. Composting toilets provide significant environmental benefits when compared to conventional flush systems. In Portland, this system has the added benefit of reducing impacts on an already taxed sanitary and storm system, reducing its contribution to combined sewer overflows to the Willamette River.
The composting toilet 'M54W Trail Head Series' project began with an identified need at Huston Field for restroom facilities. A composting toilet was ideal for this application as a low cost (no plumbing or utilities required), low environmental impact alternative to building a traditional plumbed restroom. Upon initial reading of the code and conversations with the City of Portland, it was determined that composting toilets of a certain type and certification were permitted within City limits. Due to restrictions within our Master Plan, the project was moved from Huston to another area lacking this service – Lower Griswold. Once the location was established, an installation contractor was identified and site maps were prepared for permit. After approvals from numerous City departments, the project landed in the lap of the Senior Plumbing inspector for the City and the State. The project was deemed 'prohibited' under current plumbing code which addresses residential installations, but does not explicitly address commercial installations. At this point, we could have deserted the project, but decided instead to appeal based on the belief that composting toilets should be permitted throughout the State and that it would be a great project for the Lewis & Clark students to participate in. We worked with an undergraduate intern to begin collecting information about other commercial installations in Oregon and the throughout the nation. This research was continued by a Law School student group who selected this project as part of their Sustainability in Law and Business Seminar. The two law school students and I then presented our appeal application to the Alternative Technology Advisory Committee (ATAC) for the City, who approved the project wholeheartedly! The appeal was then re-submitted to the City Plumbing department and recently was approved for installation. Our case study (process, maintenance plan, etc) will be used by several private and public sector partners for the Building Codes Division cyclical review of the Reach Code (alternative or envelope-pushing technologies/building practices) during the summer of 2016. The intent of this process will be to create a code guide to permit composting toilets throughout the state in all zones.