Courtyard Lid over Parking at Marion Green Courtyard Townhomes
Case Study: Published
|
Updated:
|
|
Seattle
,
Washington
|
2254501490
Seattle, WA, USA
Category

category_listing(s)

---

Building Type

---

Innovation

---

Jurisdiction

---

Parcel

2254501490

---

Officials

Rick Lupton | Construction and Inspection
Russ Byrd | Fire
Mike Podowski | Planning and Community Development


---

Team

Rick Lupton | approving-official
Russ Byrd | approving-official
Mike Podowski | approving-official
Joe Paar | owner
David Neiman | owner
Peter Ottele | builder


---

Ratings & Awards

Built Green 4 Star

Vision 2040 Award, Puget Sound Regional Council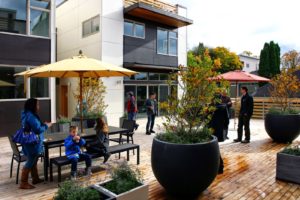 Marion Green Courtyard Townhomes is a new form of urban townhouse that utilizes a structured lid built over the top of surface parking, creating a pedestrian entry courtyard shared by all of the housing units. This new archetype mitigates the aesthetic impacts of parking areas, increases usable open space, and facilitates chance interaction to help build familiarity and community among neighbors. Gaining approval for this approach was a 7-year effort including lobbying for changes to the zoning code, then working with city agencies to resolve code compliance issues associated with the new building archetype.
A typical townhouse development includes at least one parking space per housing unit.  For project sites without alley access, the most common result is a parking court in the center of the site that uses up most of the open space.  In 2011 Seattle adopted changes to the zoning code that allowed for the construction of a courtyard lid over the driveway and parking areas in order to suppress the visual impact of parking and increase useable open space. Specific provisions in the code are used to exempt the courtyard lid from development standards that would otherwise prohibit it. Streamlined Design Review is used to obtain adjustments to development standards that reduce setbacks and enlarge the courtyard.  A fire department memo and building code alternates are used to simplify the configuration of firewalls, sprinkler, alarm systems and construction of the courtyard lid.
| Code Requirement | Compliance Path |
| --- | --- |
| SMC 23.86.015 Facade Length; 23.45.510.E.5 Floor Area Ratio; and 23.45.522.A.2 Amenity Area at Grade | Worked with the city to add code language so that a garage lid that provides usable open space is exempt from facade length maximums, the space below the lid is exempt from FAR calculations, and the open space created by the lid counts toward the requirement for amenity area at grade. |
| SMC 23.45.518 Setback / Separation | Used Streamlined Design Review to reduce required setbacks and internal separations to increase the central courtyard size. |
| SBC Secs. 903 Automatic Sprinklers; 903.4 Supervision and Alarms;904.3.5 Monitoring; 907 Fire Alarms | Because the project resembles a conventional townhouse that could be built under the residential code, the Seattle Fire Department permitted this type of project to be built without central fire alarm, annunciator panel, or central monitoring system. In lieu of a common system, individual type 13R sprinkler systems were allowed to protect each unit, with the common areas protected by an overlap of the individual systems. |
| SBC 706.5 Fire Wall Horizontal Continuity | A building code alternate was granted to allow the fire walls that separate the individual townhouse units to terminate below the courtyard lid without requiring the garage openings to be protected.  A 2 hour rated courtyard lid is provided instead. |