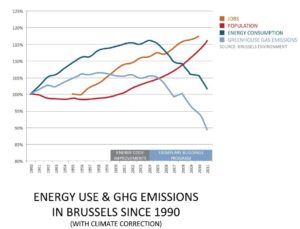 Brussels Belgium Exemplary Buildings Program + Passive House Law of 2011 
The Code Innovations Database is filled with exemplary projects, including Living Buildings, Built Green Emerald Star, Salmon Safe certified projects and more.  Yet here in the the Pacific Northwest, known as the "green capital of the world", deep green buildings are still just a tiny fraction the total.  We are not scaling up healthy, low-energy buildings fast enough to reduce carbon emissions and meet Paris Climate Accord goals. (We're still in).
We can take hope from the policies outlined in the Brussels case study, and other Passive House policies and projects.  These initiatives clearly show that – given the right policy catalyst – we can spark a market transformation using cost-effective means to rapidly scale up adoption of zero net carbon buildings!
This policy profile from Europe is one of several we're publishing to focus on the codes, policies and incentives we can adapted to our state and region to make it happen here.  The inspiration and insight we've gained helps explain why the Guild is now emerging as a leading voice for policy change in Washington state and the region…