Tiny Home OM Village Portable Shelters in Madison, WI
Case Study: Published
|
Updated:
|
|
Madison
,
Wisconsin
|
71006301073
Madison, WI, USA
Category

category_listing(s)

---

Building Type

---

Innovation

---

Jurisdiction

---

Parcel

71006301073

---

Officials

Matt Tucker | CIty of Madison, WI, Building Inspection
Tim Parks | CIty of Madison, WI, Planning Department


---

Team

Matt Tucker | approving-official
Brenda Konkle | developer
Tim Parks | approving-official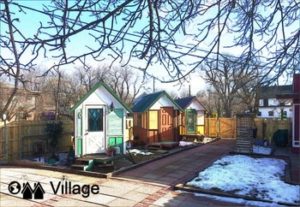 Occupy Madison Village (OM Village) is a tiny home eco-village that affordably houses previously homeless individuals and couples. Through an innovative zoning process established in city code, OM Inc (OMI), the associated non-profit, negotiated with neighbors and city officials to amend their site's pre-existing zoning map from Neighborhood Mixed-Use to a self-designed Planned Development District.
After discussions with city officials over potential options for the development of a tiny home village, Occupy Madison Inc. (OMI) decided that the most appropriate action to satisfy the desired goals of their project was to seek a zoning map amendment from Neighborhood Mixed-Use (NMX) to Planned Development (PD) zone. The PD zone explicitly encourages sustainable and/or 'alternative' building/design developments as long as the proposed land-use proves itself inappropriate for all other zone districts.
Their success gaining approval was largely due to the inherent flexibility of the PD zone as adopted and implemented by Madison.  The requirements for a zoning map amendment to a PD district are relatively straightforward. The code language outlines the standards and process for approval;  however, the unconventional nature of this project along with resistance from neighbors made the conditions for approval especially rigorous and energy intensive.
The tiny homes are built on wheeled trailers, so they are considered Recreational Vehicles (RVs) and so are not subject to standard building, plumbing, and electrical codes. The trailers are kept under 3,000 lbs gross weight  to avoid the need for title and registration (see standard for 'Gross Weight Trailers'). While mobile/modular homes do require certain structural and utility standards, especially while on roads, the neighbors' and the City's safety and aesthetics concerns required OM Village to alter their initial plans.
Through an iterative and collaborative process that involved numerous public meetings between city officials, the East Emerson Neighborhood community, and advocates of OMI, agreements were made as to the final layout of the village, safety standards for the tiny homes, and other conditions on the village community.  Specific agreements were to abide by building code, fire and electrical safety standards, to preclude composting toilets and 'alternative' plumbing within the tiny homes, and to increase curbside appeal with raised garden beds and by shielding tiny homes from view.
| Code Requirement | Compliance Path |
| --- | --- |
| Madison Municipal Code 28.098 Planned Development District, provides a regulatory framework for flexible integrated or innovative land developments that do not fit into any other zoning district (See page 28-118). | Gaining approval involved a rigorous review process of a general development plan and specific implementation plan. |
| Madison Municipal Code 28.182 Text and Map Amendments, stipulates the process required for making zoning map amendments (See page 28-229). | The prescriptive process for zoning map amendment includes a Urban Design Commission public hearing and recommendation, followed by adoption by the Madison Common Council. |