Super Insulated Earth at Calliope Farm in Olympia WA
Case Study: Published
|
Updated:
|
|
Olympia
|
Overhulse Road Northwest, Olympia, WA, USA
Category

category_listing(s)

---

Building Type

---

Innovation

---

Jurisdiction

---

Parcel

---

Officials

Rowland Zoller | Thurston County Planning
|


---

Team

Joseph Becker | developer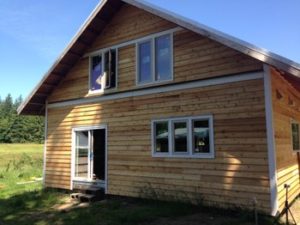 Joseph Becker, Olympia-based natural builder, utilized light straw-clay insulation, perforated plywood shear wall, and expanded cork insulation in the earthen wall system of Calliope Farm's new residential farmhouse. Using thermal resistance R-values from existing code supplements and references from the cork manufacturer, Becker proved his innovative wall system would exceed WA Energy Code. Sufficient evidence showed that a vapor-permeable wall system adequately managed moisture, thus annulling the required vapor barrier.
This project was permitted through a component performance path to show the wall system met the Washington State Energy Code. Default insulative values for light straw/clay, set at R-1.6 per inch, were established by the Canadian Housing and Mortgage Corporation study and were explicitly recognized in New Mexico and Oregon code supplements. Insulative values for the expanded cork material was assumed to be R-4 per inch based on European standards and the manufacturer's claims. Using the above values, Joseph Becker, with the help of the Washington State University (WSU) energy extension office, was able to compare the total area r-values (u-values) between a hypothetical home with straw-clay plus rigid cork insulation to a conventionally insulated home; the results of which proved that the rigid cork with straw-clay insulation system yielded thermal resistance values better than that required by the WA state energy code. With the performance requirement exceeded, the combination of materials intended for this project was approved.
While the residential code also requires a vapor retarder in this climate, sufficient evidence provided to building officials proved that the vapor permeable wall system, composed of straw-clay, cork, and a custom perforated or 'holey' plywood layer, managed moisture inside the home and throughout the wall assembly without the need for a vapor retarder.
| Code Requirement | Compliance Path |
| --- | --- |
| 2015 Washington Residential Code, Section R702.7 Vapor Retarders | Reliance on Oregon and New Mexico code supplements for straw clay building guidelines. |
| 2012 Washington State Energy Code, Residential Provisions, Section R405 'Simulated Performance Alternative' | Washington State University energy extension office assisted in technical aspects of completing acomponent performance pathway worksheet. |
| 2015 IRC Appendix R: Light Straw Clay Construction (Newly added to 2015 edition) | This section of IRC helped convince building department officials of viability of straw/clay as an insulative material and acted to guide specifications for this project's approval. |
Reliance on Oregon and New Mexico code supplements for straw clay building guidelines.