Composting Toilets at the Six-Story Bullitt Center
Case Study: Published
|
Updated:
|
|
Seattle
,
Washington
|
7234600195
1501 East Madison Street, Seattle, WA, USA
Category

category_listing(s)

---

Building Type

---

Innovation

---

Jurisdiction

---

Parcel

7234600195

---

Officials

Dave Cantrell | Seattle King County Health Departmen


---

Team

Dave Cantrell | approving-official
Colleen Mitchell | Designer
Brian Court | Designer


---

Ratings & Awards

Living Building Challenge Certified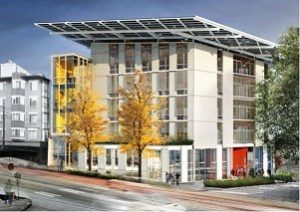 The Bullitt Center is a unique, first-of-its kind office building in downtown Seattle at 1501 Madison Street. The building is designed to meet the rigorous standards of the Living Building Challenge (LBC), including Net Zero Energy and Net Zero Water. Working directly with the City of Seattle and their LBC pilot program, new technologies and design elements for sustainability were permitted or allowed through conditional-use permits, variances, and exclusive permissions from the city. Micro-foam-flush marine toilets with an onsite composting system are used to help achieve the Net Zero Water goal and adhere to the requirements of the city's pilot program.
2020 Engineering worked with Public Health Seattle King County (PHSKC) as well as the Seattle Plumbing Department to permit the composting toilets. Because the composters were entirely contained within the building, both the fixtures and the composters themselves were permitted through plumbing permits in accordance with the Universal Plumbing Code. The composters are National Sanitation Foundation (NSF/ANSI) certified and are approved for use in Washington state. It would have been much more difficult to permit a non-approved or non-proprietary system. Although it was not difficult in this case, permitting specific toilet fixtures can sometimes be an issue. Because typical composting systems vent air down through the toilet, through the composter, and out through an exhaust pipe, the toilets do not have a p-trap (a device that prevents the odorous gas in plumbing drains and sewers from rising up through the toilet). This, along with not installing a typical exhaust fan in the bathroom (since we want the air to come into the bathroom rather than out), can be problematic with plumbing and building departments. However the City of Seattle is more supportive of these types of alternative systems; they were open to our justification and allowed it.