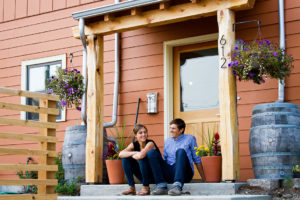 By Chris van Daalen, Anna Robinson, and Leah Missik – originally featured on the MBAKS blog on 2/17/2017
Since Built Green's inception almost twenty years ago, the Northwest EcoBuilding Guild and its members have been collaborating with the Master Builders Association of King and Snohomish Counties to transform the built environment toward long-term sustainability and that partnership is only improving with time. From the first 5-star Built Green certified home in Seattle (built by Guild founding member Jon Alexander) to ongoing work on the Code Innovations Database, the Guild and Built Green have a long history of successful collaboration.
Eric and his wife, Alex, in front of their net zero energy Built Green home.
On April 29–30, the Guild will host the Northwest Green Home Tour for the seventh time, which will feature many Built Green homes in Seattle and the surrounding area. Eric Thomas, the Membership Programs Manager at the MBA, Built Green homeowner, former Built Green Executive Committee member, and former Tour organizer, cherishes the Tour and its impact. According to Eric, "the Northwest Green Home Tour is a chance for the local green building community—from builders to architects to homeowners—to come together for one weekend to give their Seattle-area neighbors an up-close look at our region's healthiest, most efficient homes. In my experience, nearly everyone taking the tour or showing a home on it comes away inspired by the beauty and innovation on display. Being involved with the tour as a tour-goer, a volunteer, a homeowner, and eventually an organizer, has been a transformative experience for me."
This month, the Guild and the MBA/Built Green are teaming up to train builders and other professionals on how to effectively combine energy efficiency with indoor air quality at the Healthy Home Training for Building Professionals course from February 16–April 6, 2017. Instructors are national and regional field experts and the course material will give participants a better understanding of building science and indoor air quality benefits to best meet customers' needs. The collaboration between the Guild and the MBA/Built Green not only enables this important class, but helps it reach a broader audience.
The Clearwater Commons Community, which is a featured case study in the Code Innovations Database.
In addition to collaboration on tours and trainings, the Guild and Built Green have worked together to document precedent-setting breakthroughs in the green building realm. An example is "zHome First Rainwater Harvesting for Indoor Use in Issaquah," a case study in the Code Innovations Database written by Leah Missik and Chris van Daalen, that describes one of Built Green's demonstration projects, zHome, in the Issaquah Highlands. Other groundbreaking Built Green projects in the Database include Positive Impact Development at Clearwater Commons, the Solar-Powered Grow Community and the Dwell Emerald Star Home in Ballard. Database authors are now expanding this effort to document green advances: in addition to describing successful projects, they will also document policy profiles and incentives adopted in some communities that should be adapted and implemented broadly. As experts in the field of green building, both Built Green and the Guild feel a responsibility to share proven practices and policies to a broader audience. As local governments adopt these and similar policies and increase incentives for builders, there are more opportunities for those in the green building sector to partner on projects with far-reaching benefits. Many of these projects would not have been possible without the policies such as Priority Green, which Built Green helped to establish.
Chris has seen the impact these incentives can have on the growth of green building. "In 2009, Guild President and Built Green Executive Committee member Ben Kaufmann of Greenworks Realty was the first to publish data showing the competitive advantages of Built Green certified homes. Since then, the program has grown from a thin slice of the market, to 2016 which saw 58% of new single-family homes in Seattle be Built Green certified. This phenomenal success is in part due to successful incentives in Seattle that other cities can learn from to transform markets around the region. I'm excited to work with Leah to share these policy innovations as we advocate for our industry and expand our impact!"
Another example of important policy adoption is the City of Shoreline's adaptation of the City of Seattle's "Living Building Pilot Ordinance," which was first adopted in 2009. This ordinance has been built upon by the City of Shoreline to establish a Deep Green Incentive Program (DGIP) ordinance, which will be considered by the City Council on March 27. "This is a tremendous opportunity for us to make progress toward our carbon reductions goals by reducing our footprint in the built environment," Miranda Redinger, Senior Planner for City of Shoreline, explains. "We've done a lot of work in the transportation sector through light rail station planning, but if the areas that redevelop do not use green building, we will have lost our chance." Shoreline's proposal expands on Seattle's precedent to include incentives for Built Green 5-Star and Emerald Star projects. Leah and Chris will publish a policy profile on the Shoreline DGIP as soon as the Council approves it, so it can serve as fodder for other cities that are considering similar actions. Another great incentive example is the Housing Design Demonstration Program on Bainbridge Island that rewards amazing projects like the Grow Community with additional density and code departures in exchange for high-performance building.
Kudos to leaders in both groups that have leveraged their unique qualities to harness the power of partnership! With Built Green and the Guild's history of collaboration, and the strength of the regional market for sustainable homes and buildings, the future is looking really green!