Yobi Micro-Apartments maybe the last Congregate Housing allowed in Seattle
Case Study: Published
|
Updated:
|
|
Seattle
,
Washington
|
2254500750
1219 East Marion Street, Seattle, WA, USA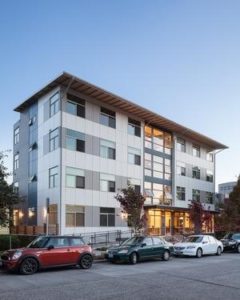 Yobi offers an alternative kind of apartment living enriched by community, affordability and location. Architect David Neiman created 45 micro units designed around shared common spaces that provide opportunities for chance encounters, which supports social connectedness, site efficiency and sustainability. Unfortunately, since the completion of the project, the city of Seattle changed the requirements making congregate housing significantly more difficult or impossible to build.
The Yobi apartments met the prescribed code at the time of permitting. The project was submitted for permitting in November 2013 and its first phase was approved May 2014. Between 2009-2014 Seattle permitted over 3,600 units of congregate micro-housing, featuring units as small as 150sf with shared kitchens and other amenities. Throughout this period a political backlash against this form of small, dense development built momentum, eventually resulting in 2014 legislation that effectively banned congregate micro-housing in lowrise zones. The new legislation requires small-unit development in lowrise zones to be in the form of Small Efficiency Dwelling Units (SEDUs) with complete kitchens and minimum gross unit size of at least 220 sf. In addition to the change in the statutory requirements, SDCI also began to interpret Chapter 12 of the Seattle Building code in a more conservative fashion, requiring a 70sf rectangle of open space within each unit, instead of a 7' diameter circle.
These changes impacted the Yobi project in the second phase when it went through permitting to complete the basement units. While the basement units were identical to the units approved for the stories above, they were not large enough to accommodate the 70sf rectangle of clear floor space now deemed necessary for permitting. Neiman appealed to the Construction Code Advisory board and was granted a one time exemption to complete the project as planned.
| Code Requirement | Compliance Path |
| --- | --- |
| Seattle Building Code, Chapter 12, Interior environment; section 1208 (pg 7) regulates room sizes and requires efficiency dwelling (EDU) units be at least 220 sf | A one-time code appeal was granted based on previous rule to complete the project as originally planned |
| SDCI Director's Rule 7-2016 was in effect at the time, allowed for small efficiency dwelling (SEDU) units <220 sf when specified amenities are also provided. Since superceded by Director's Rule 9-2017. | To comply with SEDU rules, unobstructed floor area of at least 120 feet may not include bathrooms, cabinets, appliances, structural features and closets |