Transitional Micro-Housing at Opportunity Village Eugene
Case Study: Published
|
Updated:
|
|
Eugene
,
Oregon
|
1704253000200
111 N Garfield St, Eugene, OR, USA
Category

category_listing(s)

---

Building Type

---

Innovation

---

Jurisdiction

---

Parcel

1704253000200

---

Officials

Mark Whitmill | City of Eugene, OR
Kristie Brown | City of Eugene, OR


---

Team

Andrew Heben | developer
Mark Whitmill | approving-official
Kristie Brown | approving-official
William Randall | Designer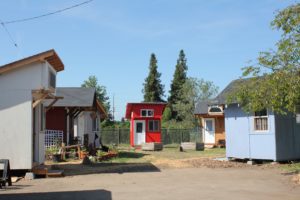 Opportunity Village is a transitional micro-housing village that serves 30 otherwise unhoused individuals and couples at a time. The homes range from 60 – 80 square feet in size, and utilize common cooking, restroom, and gathering facilities on site. The project is located on city-owned land, operating on short-term leases for a nominal fee. It was permitted as a "homeless shelter" in an industrial zone. The individual homes were permitted as "temporary structures" and "sleeping units," rather than as permanent dwellings, which relaxed several code requirements.
Following the eviction of a tent encampment during the 2011 "Occupy" Movement, the City of Eugene created the "Opportunity Eugene Community Task Force on Homeless Solutions" tasked with identifying "new and innovative solutions" for responding to the issue of homelessness. Based on the committee's recommendation, City Council directed staff to establish a process and identify potential sites for a "pilot project for a low-cost, micro-housing project for homeless individuals." An underutilized city-owned site was selected, located in an industrial area but close to a bus line and services.  A conditional use permit for a "homeless shelter" was approved at a public hearing with no opposition, and building commenced in August 2013. Initially approved as a 1-year pilot project, the lease has since been renewed twice with unanimous support from the City Council, and is currently approved through June 2018.
Clearly meant to be "temporary structures" (and able to be moved), the bungalows were still required to meet code requirements for structural strength, fire safety, means of egress, and ventilation, as defined in ORSC Section 107.  Once they complied with those requirements, the City allowed a great deal of flexibility to help keep costs to a minimum.
| Code Requirement | Compliance Path |
| --- | --- |
| 2011 Oregon Residential Specialty Code (based on 2009 IRC), Chapter 3, sets structural and other standards for all dwellings. | All structures were permitted as "temporary structures" (Sec. R107 see page 8) so the City relaxed requirements for more permanent construction, and extended the time of service with a demonstrated cause. |
| Eugene Code Sec. 9.2450 requires a "homeless shelter" to secure a conditional use permit, allowed in a non-residential zone | The project applied for and was granted a conditional use permit with no opposition (EC 9.8075) |