Seattle "C-Box" Backyard Cottage from a Shipping Container
Case Study: Published
|
Updated:
|
|
Seattle
,
Washington
|
2595300175
9701 41st Ave SW, Seattle, WA, USA
Category

category_listing(s)

---

Building Type

---

Innovation

---

Jurisdiction

---

Parcel

2595300175

---

Officials

---

Team

Sage Saskill | Designer
Michael Vacirca | builder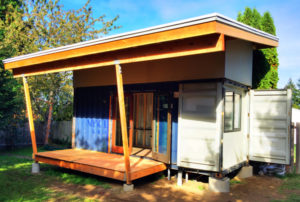 Built with a re-purposed blue shipping container by hip Seattle EcoBuilders Sage Saskill and Mike Vacirca, the C-Box was designed as a Detached Accessory Dwelling Unit (DADU), known in Seattle as a "backyard cottage". Since it would be used as a commercial kitchen to house the owner's small culinary business, it was permitted as a "shed" i.e. accessory structure (non-dwelling).
The project is a 160 square-foot backyard accessory structure built using a recycled shipping container with interior insulative wall assembly, storage/sleeping loft, bathroom and a commercial kitchen to house a growing small culinary business. By using the loft for storage and not for sleeping (for now), they could permit it as a "shed" and save on permit fees. Later when the business outgrows the space, they plan to convert it to an accessory dwelling. So they built it to meet all requirements for a "backyard cottage" DADU as well as a commercial kitchen.
Instead of hiring a welder to connect the box to the foundation at the construction site, they devised a simple knife-plate steel connector to fit into the container's existing corner castings, attached to four foundation plinths, at about 1/4th the cost of on-site welding.