Bullitt Center the first Mass Timber Building in Seattle in 80 years
Case Study: Published
|
Updated:
|
|
Seattle
,
Washington
|
7234600195
1501 East Madison Street, Seattle, WA, USA
Category

category_listing(s)

---

Building Type

---

Innovation

---

Jurisdiction

---

Parcel

7234600195

---

Officials

---

Team

Denis Hayes | owner
Brian Court | Designer
Joseph David | developer
Nouri Samiee-Nejad | owner


---

Ratings & Awards

Design, materials and construction practices met all criteria of the Living Building Challenge 2.0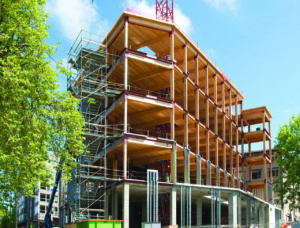 The Bullitt Center, arguably the "greenest office building in the world" was the first mass timber commercial building constructed in Seattle in over 80 years. It has a structural frame of glulam columns and beams, floor decks of 2×6" lumber set on edge and "nail-laminated" together, and plywood used for structural diaphragm and shear wall panels – all conforming to prescriptive code requirements. 100% of the wood used in the project was FSC certified from local sources to meet the rigorous standards of the "Living Building Challenge."
The Bullitt Center, designed to last 250 years, was the first mass timber commercial building constructed in Seattle since the 1920s, and is helping spark a renaissance of mass timber construction for taller wood buildings just beginning to emerge in 2013 when the building was completed. Although allowed in national building codes for over a century, Type IV Heavy Timber construction was all but abandoned as a commercial framing system for most of the 20th Century – in favor of steel, iron and reinforced concrete construction. The Bullitt Center is a six-story podium structure (four floors of wood over two stories of reinforced concrete) that was approved through prescriptive compliance with the 2009 Seattle Building Code Chapter 6; the code specifies exterior walls made of non-combustible materials with interior structural members of solid or laminated wood without concealed spaces. Bullitt Center is a groundbreaking demonstration of the "Living Building Challenge" a rigorous green building standard that requires all wood in the building to be from 100% sustainably-certified wood sources within 600 miles of the site.