Subsidized Housing in a Light Industrial Zone at Quixote Village!
Case Study: Published
|
Updated:
|
|
Olympia
,
Washington
|
12821340200
Olympia, WA, USA
Category

category_listing(s)

---

Building Type

---

Innovation

---

Jurisdiction

---

Parcel

12821340200

---

Officials

Steve Friddle | City of Olympia Community Development
Tom Hill | City of Olympia


---

Team

Jill Severn | owner
Tim Ransom | owner
Steve Friddle | approving-official
Tom Hill | approving-official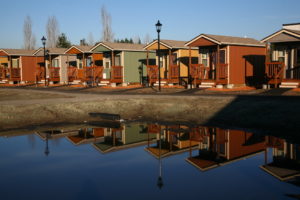 This case examines the partnership between the residents of Camp Quixote – a self-governing tent community of homeless adults – and Panza, their nonprofit support organization, Thurston County and the City of Olympia, to site a permanent supportive housing community in a light industrial zone. This required a comprehensive plan amendment and a zoning code amendment adopted by the Olympia City Council over the objections of neighboring commercial property owners, as well as a conditional use permit. On Christmas Eve, 2013 Quixote Village welcomed its previously homeless residents to their new homes, which include a 1700 sq. common house with shared facilities, and 30 individual "tiny house" 144 sq. ft. sleeping units.
Quixote Village began as a protest in a downtown Olympia parking lot in February, 2007.  When police threatened to break it up, the local Unitarian church offered it sanctuary on church grounds.  Within a few months, the City adopted an ordinance which added a new chapter, 18.50 – Homeless Encampments to the Olympia Zoning Code.  This new zone allowed a temporary homeless encampment to reside on property owned and managed by religious organizations for up to ninety days (later extended to 180 days). The residents' larger goal of developing permanent stable housing was only realized later after a lengthy public process.  In response to Thurston County's donation of the land, in 2012 the Olympia City Council passed a one-time amendment to the zoning code which authorized a single "permanent homeless encampment" on County land. Thus for any future "permanent housing encampments" to be constructed, additional code amendments would have to be enacted.
After meeting all applicable City engineering, building, and fire codes, the project was finally constructed under a conditional use permit for 30 individual Tiny Cottage units and a 1700 sq. ft. shared common house in a light industrial zone.
| Code Requirement | Compliance Path |
| --- | --- |
| | Individual units had to meet requirements of IRC; individual tiny homes were considered sleeping units rather than accessory dwelling units, similar to assisted living SROs because they each have individual toilets, but not kitchens. |
| Olympia Municipal Code, Chapter18.50 – Homeless Encampment | City Council Adopted Change to Comp. Plan and Zoning Code to allow project.  Subsection 18.50.A.2 County Homeless Encampment is specific language for Quixote Village specifying conditional use permit. |
| Olympia Municipal Code, Chapter18.48 – Conditional Uses | Project had to obtain conditional use permit for siting residential units in a light-industrial zone; code was amended to allow this use |
| Code Requirement | Compliance Path |
| --- | --- |
| | Individual units had to meet requirements of IRC; individual tiny homes were considered sleeping units rather than accessory dwelling units, similar to assisted living SROs because they each have individual toilets, but not kitchens. |
| Olympia Municipal Code, Chapter 18.50 – Homeless Encampment | City Council Adopted Change to Comp. Plan and Zoning Code to allow project.  Subsection 18.50.A.2 County Homeless Encampment is specific language for Quixote Village specifying conditional use permit. |
| Olympia Municipal Code, Chapter 18.48 – Conditional Uses | Project had to obtain conditional use permit for siting residential units in a light-industrial zone; code was amended to allow this use |