Thermal Break Shear Wall at Sage Green
Case Study: Published
|
Updated:
|
|
Oregon
,
Portland
,
Washington County
|
14780-14860 SW Watershed Ln, Beaverton, Oregon 97007
Category

category_listing(s)

---

Building Type

---

Innovation

---

Jurisdiction

---

Parcel

---

Officials

Kofi Nelson-Owusu | Washington County, Oregon, Building Services
John McAllister | Washington County, Oregon, Building Services


---

Team

Ben Walsh | builder
Christopher Dymond | Consultant
Scott Nyseth | Structural Engineer
Kofi Nelson-Owusu | approving-official
John McAllister | approving-official


---

Ratings & Awards

Oregon High Performance Homes Certified
Energy Star Certified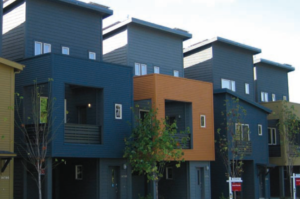 For this 5-unit entry-level, zero-net-energy subdivision in Washington County, Oregon, the builder used an innovative "Thermal Break Shear" (TBS) wall assembly with rigid foam insulation between the lumber framing and plywood sheathing in an otherwise conventional light-frame wall assembly. The Code Official required proof the proposed shear wall assembly would be capable to resist code level seismic forces, so the builder contracted with Oregon State University to perform destructive seismic testing, which demonstrated not only that the assembly complies with structural code, but surprisingly, TBS wall is significantly more resilient in an earthquake than a conventional wall.
Green One Construction, with support from ongoing research and development programs at the Oregon Department of Energy (ODOE) and Energy Trust of Oregon (ETO), built five net-zero energy homes in the Sage Green subdivision. Ben Walsh of Green One Construction led the project team, coordinating the efforts of the developer, subcontractors and R&D partners to meet the requirements of the Jurisdiction.  In the course of investigating a wall assembly with exterior foam insulation, the collaborative team innovated a simple, low-cost alternative with 1.25" of rigid foam between the lumber and ply sheathing. They realized this could deliver significant energy savings through a complete thermal break and airtight building envelope, while resolving other challenges in constructing a high performance assembly.
In August 2009, Walsh presented the TBS wall assembly to Dr. Kofi Nelson-Owusu, Senior Structural Engineer and Supervising Plans Examiner at the Washington County, Oregon, LUT –  Building Services. Dr. Nelson-Owusu required testing to demonstrate the strength of the wall assembly. Tests were performed by Oregon State University's Knudsen Wood Engineering Laboratory in Corvallis in September 2009.   Surprisingly, those tests showed that the TBS assemblies actually increases the flexibility of the wall, delivering higher lateral load capacity than a conventional wall.  Dr. Nelson-Owusu accepted the test results and structural engineering, and Washington County issued building permits on January 25, 2010.
Of particular interest to anyone who might seek to use a TBS assembly, on June 1, 2013, the International Code Council Evaluation Services (ICC-ES) published Evaluation Services Report 2586. Beginning in 2015, building regulators at the City of Portland have acknowledged that ICC-ESR 2586 establishes that a TBS wall assembly with up to 1" of foam meets requirements for lateral bracing under International Residential Code (IRC) Table 602.10.2, Method WSP, and confers prescriptive approval on such an assembly with no engineering required.
| Code Requirement | Compliance Path |
| --- | --- |
| 2010 Oregon Structural Specialty Code: Section 1403 specifies requirements for exterior wall assemblies, including structural load resistance required by Chapter 16. | To get the TBS wall approved, the code official required seismic lateral strength testing.  Testing was performed, and results were provided to the County, who approved the wall as an alternative method. |