Straw/Clay Insulation and Permeable wall system at Port Townsend Ecovillage
Case Study: Published
|
Updated:
|
|
Port Townsend
,
Washington
|
989200002
Port Townsend, WA, USA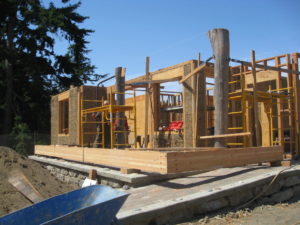 This permitted installation of straw/clay wall insulation had to meet Washington energy code and International Building Code standards. Existing code supplements from other states were referenced and applied by the building team and the approving building department. The straw/clay insulation filled a 12" thick split stud cavity in a single family structure at the Port Townsend Ecovillage. It appears that this was the first straw/clay house permitted in the State of Washington. The permit was issued in May of 2013
The homeowners along with consultant Joseph Becker and Designer Ann Raab worked closely with the Port Townsend building department to proactively provide background info needed for permitting a Straw/clay building. Specific info from existing code supplements in Oregon and New Mexico, along with support from Washington State University Energy Program helped the permit process go super smoothly.
| Code Requirement | Compliance Path |
| --- | --- |
| Washington State Energy Code compliance using Component Performance Path. Residential Provisions R405 | Component performance worksheet and technical support from WSU energy extension office. Default R-Value provided by OR Reach Code and Canadian Mortgage Corp study. |
| Vapor Retarder: IRC – R 601.3 Vapor Retarders | Reliance on OR and NM code supplements for straw clay building guidelines |
| Structural: IRC – SECTION R602 WOOD WALL FRAMING | No plywood sheeting on exterior walls: Custom Engineering by Mark Bock at Sitts-Hill-Engineers |
| Other building details and  requirements as necessary for Straw/Clay construction including wiring and plumbing | Reliance on OR and NM code supplements for Straw/clay building standards, requirements and inspections. |
| Code Requirement | Compliance Path |
| --- | --- |
| Washington State Energy Code compliance using Component Performance Path. Residential Provisions R405 | Component performance worksheet and technical support from WSU energy extension office. Default R-Value provided by OR Reach Code and Canadian Mortgage Corp study. |
| Vapor Retarder: IRC – R 601.3 Vapor Retarders | Reliance on OR and NM code supplements for straw clay building guidelines |
| Structural: IRC – SECTION R602 WOOD WALL FRAMING | No plywood sheeting on exterior walls: Custom Engineering by Mark Bock at Sitts-Hill-Engineers |
| Other building details and  requirements as necessary for Straw/Clay construction including wiring and plumbing | Reliance on OR and NM code supplements for Straw/clay building standards, requirements and inspections. |