State-approved vs. Site-built Composting Toilet in Birch House
Case Study: Published
|
Updated:
|
|
Washington
,
Whatcom County
|
380223488514
Whatcom County, WA, USA
Category

category_listing(s)

---

Building Type

---

Innovation

---

Jurisdiction

---

Parcel

380223488514

---

Officials

Lee Phipps | Whatcom County Health
Jim Tinner | City of Bellingham


---

Team

Dan Welch | Designer
Lee Phipps | approving-official
Jim Tinner | approving-official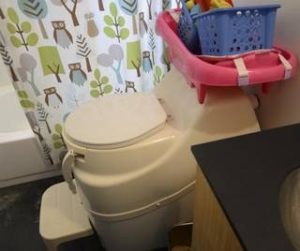 To design and build his home to meet the Net-Zero Water imperative of the Living Building Challenge, architectural designer Dan Welch installed waterless composting toilets in his family's home, and recycles their biosolids on-site "for beneficial purposes" in a manner approved by Whatcom County Health Dept. and City of Bellingham under State of Washington rules.  Although he argued those rules prefer a two-stage "batch composter" for improved sanitation, the County health official required him to choose a continuous composter from the State approved list, rather than his own site-built design.
The Birch Case Study Home uses several integrated systems to achieve Net-Zero Water, including rainwater harvesting for potable use, on-site infiltration of all greywater and stormwater, and composting toilets.  Before finally being approved to use a self-contained proprietary composting toilet model, [bundle] proposed two innovative urine diverting batch composting toilet systems to treat human waste on-site, but both were rejected by Whatcom Health Department.  One was a proprietary design from Sweden not on the state approved list, the second was a similar site-built system Welch designed himself.  Both proposed "batch" systems use removable 5 gallon composting chambers, with waste combined into two 90-gallon "primary composting" tote containers kept in a lockable accessory shed, where the excrement ages for 1.5 – 3 years so it can be disposed of safely.  Welch argued their design was best way to compost human waste in a residential setting and satisfy Section 4.4.7 of the WA DOH On-Site Wastewater rules which state "Means must be provided to keep separate waste undergoing treatment from finished end products."
In the end they were forced to accept one of the proprietary models off the State approved list.  Ironically, they pointed out, all the systems on the state approved list are "continuous" composters which run the risk of releasing partially composted waste when "finished" compost is removed.
| Code Requirement | Compliance Path |
| --- | --- |
| Whatcom County Code Chapter 24.05 adopts by reference WA Administrative Code WAC 246-272A, which authorizes WA State Department of Health to set rules for the performance, application, installation and design of composting toilets. State rules do allow public domain site-built systems, but also say local code supersedes and allows.  WCC 24.05.090 allows only proprietary systems on State approved list | Proposed site-built system conformed with Required Standards and Guidelines 337-016, Section A1(parts 1- (WA DOH), but County code required proprietary system listed in RS&G 337-024 |