"Off Grid" Net Zero Water at Birch Case Study House
Case Study: Published
|
Updated:
|
|
Bellingham
,
Washington
|
380223488514
2930 Birchwood Ave, Bellingham, WA, USA
Category

category_listing(s)

---

Building Type

---

Innovation

---

Jurisdiction

---

Parcel

380223488514

---

Officials

Lee Phipps | Whatcom County Health Department
Jim Tinner |


---

Team

Dan Welch | owner
Jim Tinner | approving-official
Lee Phipps | approving-official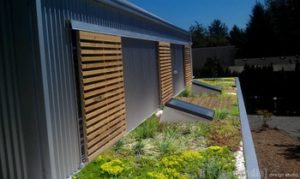 This groundbreaking project is the vision of innovative designer Dan Welch of [bundle] design studio in Bellingham, Washington.  Welch designed and built his own home as a case study to validate principles of the Living Building Challenge (LBC), and achieve an "off-grid" Net-Zero Water home.  He and his family now use purified rainwater for all uses and treat all their wastewater on-site, approved through progressive local & state green building codes that allowed him to legally decline City water/sewer hookups.
This home demonstrates multiple innovative solutions to meet the LBC Net-Zero Water imperative; most were easily approved through the advanced codes and standards for water management adopted by the City of Bellingham, Whatcom County Health Department and Washington State Department of Health. Some of the major strategies include rainwater catchment for drinking and all other uses, waterless composting toilets, and treating all greywater and stormwater with on-site infiltration.
By designing his home with innovative closed-loop water systems and high-quality materials, Welch was allowed to go "off-grid" and avoid costly city water-sewer hookups and monthly bills. The City of Bellingham was willing to approve the projects water treatment and disposal system as a stand-alone system if he met the requirement of RCW 19.27.097 which requires "evidence of an adequate water supply." He applied and got permits from Whatcom County Health Department using adopted guidelines for a) private potable rainwater catchment system (see Rainwater Packet) and b) a Water Conserving On-Site Wastewater Treatment (see DOH #337-016 Recommended Standards and Guidance);  By producing the appropriate permits, City Code officials were satisfied and approved his project. His waterless composting toilets were also approved under the State rules (see separate case study on the Site-built composting toilets at the Birch Case Study House)