Greywater Treatment & Infiltration at the Bullitt Center
Case Study: Published
|
Updated:
|
|
Seattle
,
Washington
|
7234600195
1501 East Madison Street, Seattle, WA, USA
Category

category_listing(s)

---

Building Type

---

Innovation

---

Jurisdiction

---

Parcel

7234600195

---

Officials

Denise Lahmann | Washington State Deparment of Health, Wastewater Management Section
Dave Cantrell | Public Health - Seattle and King County, Community Environmental Health Services Division


---

Team

Colleen Mitchell | Other
Denise Lahmann | approving-official
Dave Cantrell | approving-official


---

Ratings & Awards

Living Building Challenge Certified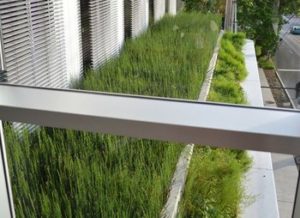 The Bullitt Center, arguably the greenest office building in the world, is certified by the International Living Future Institute having met the Living Building Challenge. The building is designed to capture and treat rainwater for all uses, and handle all wastewater on-site, including an innovative greywater treatment using a green roof constructed wetland and infiltration facility in the public right-of-way. Approval required multiple code waivers but the project was allowed extraordinary flexibility under the Seattle's Living Building Pilot Ordinance.
To meet the "net-zero water" requirement of the Living Building Challenge – the world's most rigorous green building certification – the Bullitt Center designers had to devise a system to ensure that 100% of storm water and building water discharge would be managed onsite.  Greywater in the building from sinks, showers, floor drains, and dishwashers is now treated in a living roof / constructed wetland, and any overflow is infiltrated into the ground through a green planter strip drainfield in the 15th Ave. right-of-way.  To gain approval, the greywater system was permitted as an On-site Sewage System (OSS) by the Washington State Department of Health's Office of Shellfish and Water Protection (WSDOH) through an agreement with the local Environmental Health Services Division of Public Health Seattle and King County (PHSKC). Indoor plumbing components were reviewed and inspected by PHSKC under 2009 Uniform Plumbing Code, WA State Amendments, Ch. 16, Part II.
| Code Requirement | Compliance Path |
| --- | --- |
| 2009 Uniform Plumbing Code, WA State Amendments, Ch. 16, Part II (see page 88-89), prescribes requirements for non-potable reuse water systems | City of Seattle reviewed and inspected indoor plumbing system components. 1614 defines greywater, 1616 includes specification requirements, and 1617 discusses pipe material and identification. |
| Code of the King County Board of Health Title 13 (Sec. 2.18) specifies requirements for On Site Sewage systems (OSS) | The project complied with Seattle King County Health rules for OSS systems, and innovative elements were permitted through code waivers and approved jointly with WA State DOH. |
| Chapter 246-272A WAC Sections 210 and 234 specify requirements for drainfield & reserve area design, depth and soil substrate, etc. | Washington State Dept. of Health regulated and inspected all elements of system except for indoor plumbing.  Multiple code waivers were granted by State and City. |