Crushed Glass Fill at Little Rock Housing Project
Case Study: Published
|
Updated:
|
|
Tumwater
,
Washington
|
12704431100
Tumwater, WA, USA
Category

category_listing(s)

---

Building Type

---

Innovation

---

Jurisdiction

---

Parcel

12704431100

---

Officials

John Darnall | City of Tumwater
Kelly Crawford | City of Tumwater


---

Team

John Darnall | approving-official
Dave Jorgenson | builder
Bill Lanning | Designer
Kelly Crawford | approving-official
Bob Ricks | owner
Lorenz Schock | subcontractor


---

Ratings & Awards

Awards Evergreen Sustainable Development Standard (V1.2)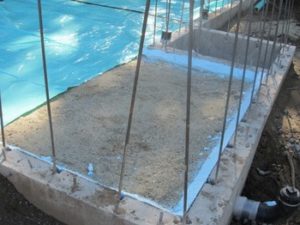 Construction of a 40-unit apartment complex with a 1,000 square-foot community building. Plus an additional 8 units in a future phase, bringing the total to 48 units. Site was developed with Glass Cullet (made from crushed bottles diverted from municipal waste) as a 100% substitute fill material to construct a slab-on-grade foundation capillary break, and for waterline pipe zone bedding. Approval of the alternative material required endorsement of geotechnical engineer and warrant by subcontractor of product quality, using manufacturer supplied 3rd-party product testing data. Glass cullet provided a low-cost, highly workable, permeable and structurally stable (equal or better) alternative material that is also clean and safe for workers and the environment.
The use of Glass Cullet as a 100% substitute for natural aggregate material is a known alternative material to the building officials and inspectors in Tumwater, WA. The Building Owner specified the product as an acceptable material for foundation backfill and pipe zone bedding, based upon the endorsement of the geotechnical engineer of record for the project. While some officials have applied WS DOT Standard Specification 9.03.(.09 – .21), it was not applied in this case as the owner, engineer and building department had already approved its use at 100% concentration (WS DOT limits to 15% blend). Testing requirements to determine the suitability of this material as bedding/fill/backfill material relate to appearance, absence of hazardous substances, permeability and compaction.
Testing requirements applied to glass aggregate used as alternative fill material include:
AGI visual test for foreign debris content
EPA Method 3010/6010 for determining organic content and chemical contaminants
Visual test for compaction, rubber tire "roll test" results are "Firm and Unyielding" (or Compaction: nuclear densometer or sand cone test)