Undersized heating system at North Passive House
Case Study: Published
|
Updated:
|
|
Olympia
,
Washington
|
52005400800
Olympia, WA, USA
Category

category_listing(s)

---

Building Type

---

Innovation

---

Jurisdiction

---

Parcel

52005400800

---

Officials

Tom Hill | City of Olympia


---

Team

Tom Hill | owner
approving-official
Randy Foster | builder
DT North | owner
Kimberly North | owner


---

Ratings & Awards

Level 5 Built Green Certified Passive House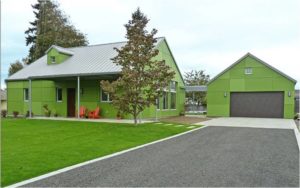 Because of a super-insulated, high performance "Passive House" design, a central heating system was not required to meet heat load requirements.  The building official allowed a smaller-than-standard heading system, a Navien combi-heater: a high efficiency, tankless, natural gas powered water heater that delivers heated hydronic fluid to a fluid-to-air heat exchanger installed in ductwork for the home's ventilation system.  Energy efficiency, building science and technology make a house that is extremely airtight and insulated.
The project's uniqueness challenged the building official to find a way to permit a smaller-than-standard heating system while still adhering to all building code regulations and generally assumed rules.
The building official used the authority found in WA State Administrative Code Section 103 – Alternate Materials. The heating system was permitted with a caveat that the home's heat load be monitored over the pilot year, and, in the case of sub-standard heating, a prescriptive heating system be installed. The structure also had to meet all Washington State Energy Code Heat Load requirements.