Supply Laundry Historic Retrofit via Outcome-Based Energy Code
Case Study: Published
|
Updated:
|
|
Seattle
,
Washington
|
6849200110
Seattle, WA, USA
Category

category_listing(s)

---

Building Type

---

Innovation

---

Jurisdiction

---

Parcel

6849200110

---

Officials

Shailesh Desai | City of Seattle, Structural Plans


---

Team

Brandon Morgan | owner
Shailesh Desai | approving-official
Melissa Wechsler | Designer
Morgan Heater | subcontractor


---

Ratings & Awards

LEED-CS Gold Certification (pending)

2013 Historic Seattle Sustainable Preservation Award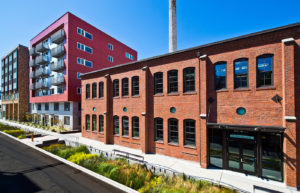 Adaptive redevelopment of the historic 110-year old Supply Laundry building, vacant for over a decade, required an upgrade to the stringent 2009 Seattle Energy Code. To maintain as much of the architectural character as possible, the owners partnered with the National Trust for Historic Preservation and the City on the nation's first outcome-based energy code pilot project. In exchange for access to post-occupancy performance data, the City granted code flexibility in how energy targets were to be achieved.
This adaptive historic redevelopment required a change of use from heavy service to retail / office, and was approved under the 2009 Seattle Energy Code through the City's Outcome-Based Energy Code pilot project.   City regulators allowed extraordinary flexibility in building and energy design, so that the design and development team could maintain the historic commercial laundry's architectural integrity, while still meeting the stringent efficiency goals of the Seattle Energy Code.  Instead of following the prescriptive code, system analysis or component performance path, the building's actual energy performance will be analyzed 12 months post-occupancy to determine compliance with standards, with specific enforcement procedures defined for non-compliance.  This outcome-based path has since been incorporated as a recognized fourth compliance path in the 2012 Seattle Energy Code, called the Target Performance Path.
| Code Requirement | Compliance Path |
| --- | --- |
| 2009 Seattle Energy Code: 1412.8.1.  Requires economizer; 1323 Fenestration requires double-glazing; 1322 Opaque Envelope requires insulation to compliance with nominal R-values | Outcome Based Code pilot program gave building inspector flexibility to depart from current energy code.  Applicant proposed code alternates mitigated by the outcome based energy code, which were approved.  Ultimate compliance requires verification at 12-months post-occupancy |
| 2009 Seattle Energy Code Reference Standard 29 (Modified version of Appendix G, ASHRAE Standard 90.1-2007) requires proposed building to consume 5% less energy than a modeled code-equivalent new building. | Energy modeling including all proposed energy savings measures shows project saving 50% or more over baseline (See energy model report) |
To achieve compliance, the project team was required to submit design documents and respond to Seattle DPD Corrections and questions with answers on how the building as a whole would reach the performance target, and how specific measures complied with code. They also conducted energy modeling, with the inputs and assumptions reviewed and critiqued by DPD staff.
Commissioning requirements included a commissioning plan (in writing), systems balancing, functional testing of HVAC and lighting systems and controls; and an air infiltration test. A Memorandum of Understanding spelled out reporting requirements to ensure the actual building performance met the EUI target of 50% better than a modeled code-equivalent new building. If the project failed to meet its target, mitigation measures would be identified through an ASHRAE Level II Energy Audit, and those deemed most effective and cost efficient would be implemented.
Built in 1906 and vacant for more than a decade, the Supply Laundry Building is 2-story brick historic structure, in the heart of the rapidly developing South Lake Union area of Seattle's urban core. This economic hotbed is home to the Amazon.com campus being developed by Vulcan Real Estate. The historic building was recently renovated and is now occupied by a restaurant, other retail and office space.  It is part of a whole-block mixed-use development that includes the 287-unit Stack House apartments, interior courtyards, green infrastructure, public art and other amenities – designed to be a vibrant live-work urban space for the tech industry workforce.
To renew the landmark building, a brick masonry smokestack was structurally reinforced and restored; the building's masonry exterior was cleaned and restored, and post-WWII concrete block additions to the building were removed.  The original wood windows were restored, and the rest – aluminum windows installed in the 1950s – were replaced with new energy efficient single-hung wood-clad windows that resemble the originals (20% restored, 80% replaced). In the process, many original openings were reclaimed.  On the interior the original heavy timber, post and beam structure is visible, and about 20 percent of the masonry walls remain un-insulated to maintain exposed brick and some of the historic character of the building, while other exterior walls were upgraded with a high-performance insulative assembly. The roof renovation was a challenge due to varying conditions after more than 100 years of renovations and maintenance, but the design specified an R-38 average value with at least R-10 at the lowest points.