Solar Canopy at The Bullitt Center
Case Study: Published
|
Updated:
|
|
Seattle
,
Washington
|
7234600195
1501 East Madison Street, Seattle, WA, USA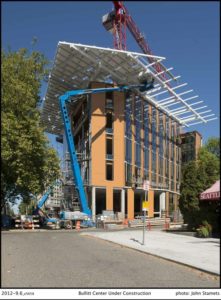 The Bullitt Center aspires to be the "greenest commercial building in the world" by pursuing the Living Building Challenge which includes a net-zero energy goal to produce all the energy the building uses. The Northwest's variable amount and intensity of daylight affects solar production values, so scaling the system to meet the needs of a six-story building required a 244 kW array with 575 solar panels, which installed cover an area larger than the footprint of the building, creating a solar canopy overhanging the sidewalk 6 stories below.  Normally this would not be allowed, but a land use interpretation helped them gain approval.
The designers of the Bullitt Building were faced with the problem of the large photovoltaic array overhanging the sidewalk of East Madison Street, 15th Avenue East, and to the centerline of the alley between East Madison Street and East Pine Street. Under normal circumstances, this would not be allowed.  The designers approached the Seattle Design Commission with the barrier and developed a presentation explaining their situation. The PV array is 76 feet above the sidewalk, and some light will be able to get through the panels and allow for plant growth and normality below. The Seattle Design Commission granted the designers of the Bullitt Building an exception to the land use ordinance Title 23 LAND USE CODE, Subtitle III Land use regulations, by considering the photovoltaic array to be an awning normally reserved for canopies one or two stories above the sidewalk.