Seattle's Hope Church gets 100% Rainwise Rebate for Cisterns
Case Study: Published
|
Updated:
|
|
Seattle
,
Washington
|
7972603405
8600 9th Ave SW, Seattle, WA, USA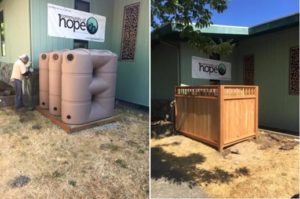 Seattle's Rainwise program found that large buildings capture and treat stormwater more efficiently than single family homes. The city's innovative rebate program awarded 100% of the cost for a cistern and irrigation system at a South Seattle church, covering both design and installation, to capture 142,000 gallons of stormwater per year and effectively reduce the force of peak storm flows.
Community of Hope Church of the Nazarene qualified for the rebate program because it was within an approved watershed within the city of Seattle. Many of Seattle's combined sewage/stormwater systems have a history of overflows into Puget Sound, and Seattle has focused its efforts on these priority areas. After qualification, an assessment on treatment capacity determined a 100% rebate potential. Community of Hope's roof measured 8340 square feet. Initial construction planning sited a rain garden around the front of the church in a narrow planting strip and cisterns for downspouts on other sides of the building. The cisterns provide peak flow attenuation during winter months, draining slowly into the combined sewer/stormwater system. In the dry season, the cisterns provide irrigation storage capacity for landscaping. Builder David Hymel, Rain Dog Designs, recalls earning the voluntary participation from Community of Hope Church:
Rain Dog Designs initially contacted the church pastor in October 2014, proposing a RainWise project with a series of cisterns in the rear and two rain gardens in the front, facing a busy street.  Tank placement and low maintenance plant choices that would improve the church's appearance were primary planning considerations.  The two cistern systems included continuous horizontal piping to connect multiple downspouts, and directing overflow to existing side sewer connections.
This design met Rainwise rebate program requirements and was allowed to move forward.
| Code Requirement | Compliance Path |
| --- | --- |
| Seattle Municipal Code, Subtitle VIII. Stormwater Code Section 22.805.010(page 37) requires that no project may discharge stormwater into the public system in a manner which pollutes or increases the load on the municipal stormwater system or discharges prohibited effluent. | The project was designed and built to meet prescribed specifications for the Rainwise rebate program including setbacks from foundations, hiring a trained, approved contractor, catchment area measurements, and pre- and post-construction inspections. |
| The Federal Water Pollution Act prioritizes mitigation of combined sewage overflows among other water quality systems to achieve national clean water goals. | Federal grant monies are allocated to state programs for implementation and progress reporting to the EPA |