Harvesting Rain to Drink at Bacon-Brenes Home spurred New Codes
Case Study: Published
|
Updated:
|
|
Oregon
,
Portland
|
226677
4057 Northeast 14th Avenue, Portland, OR, USA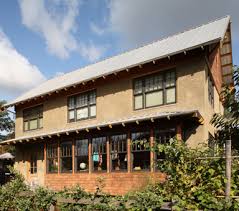 This home was one of the first in Oregon to permit rainwater for drinking. By pioneering a potable rainwater innovation, the owners and the design/build team helped spur Portland to become an early adopter of a city-wide rainwater harvesting code in 2004. The specialty designer on this project was landscape architect Pat Lando who himself has gone on to pioneer many advanced strategies for treating stormwater and recycling graywater and blackwater.
Before the City code was adopted in 2004, in 2001 Portland had developed a routine process for reviewing and approving rainwater harvesting systems for non-potable uses, but as an alternate form of plumbing it had to be approved through a code appeal.  The written appeal had to demonstrate how the proposed alternate complied with the intent of all applicable health, safety and sanitation codes. This had to be verified by an engineering analysis, full plan review and inspection in order to ensure the rainwater harvesting system is properly installed and operating.  In rare cases like this home, where they approved a rainwater harvesting system for potable use (drinking water), the owners also had to agree to have the water tested each year (more often at first), which they didn't mind when they realized their water is cleaner than city water.
Once it was accepted, the City gave it the force of precedent, so that any subsequent project that used that same system components would be approved. These systems required first flush devices, approved storage tanks (cisterns), separated plumbing w/backflow preventers, water filtration and sanitation systems.  Not all the systems worked exactly as expected, but based on this and other early projects there have been several engineering improvements on systems like the first flush / sediment diverter that refined the technology for broader adoption.
| Code Requirement | Compliance Path |
| --- | --- |
| 2001 Oregon Plumbing Specialty Code did not allow potable use of rainwater, but Portland had established an alternative process | To be approved to use rainwater for drinking, owners filed a code appeal, provided engineering analysis, full plan review, inspection and annual testing |