Density Bonus for Solar-Powered Grow Community, Bainbridge, WA
Case Study: Published
|
Updated:
|
|
Bainbridge Island
,
Washington
|
428 Grow Avenue Northwest, Bainbridge Island, WA 98110, USA
Category

category_listing(s)

---

Building Type

---

Innovation

---

Jurisdiction

---

Parcel

---

Officials

Heather Wright | City of Bainbridge Island


---

Team

Heather Wright | approving-official
Greg Lotakis | developer
Shannon Ellis-Brock | Solar Energy Financing
Marja Preston | Public Meeting Facilitator
Tadashi Shiga | Verifier


---

Ratings & Awards

Built Green 5-star
One Planet Living Community
Built Green Hammer Award for Multi-Family (2015) and Single Family (2014)
NAHB Best In Green Award for 2014, honoring the very finest in sustainable design and construction.
Green Home of the Year Award in the Best Community Project category for 2014 by Green Builder magazine
Named as one of the ten best Urban Agriculture projects worldwide by Urban Land Magazine.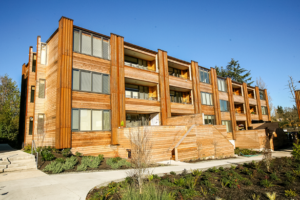 Grow Community is a new development of 142 residential units on 8 urban acres, all built to the highest level of green building certification. It was permitted under Bainbridge Island's Housing Design Demonstration Program (HDDP) ordinance which offers developers a 1.5 times the base density allowed in the underlying land use zone in exchange for high-performance.
By participating in the HDDP program (see related Policy Profile), the project would not only undergo the normal land use permitting process which is costly and time consuming. They were also committing to meet a number of additional requirements, such as smaller home sizes, a diversity of housing types, and "deep green" performance goals tied energy, water, stormwater design targets. The HDDP incentive allowed this project to increase height and density, in exchange for committing to meet these goals.
The development was permitted in 2 phases, using a standard land use application review process applied to this housing type, with additional review steps including a conceptual proposal review to make an initial determination of eligibility for the HDDP incentive. Subsequent steps included a pre-application conference, public participation meetings, as well as ongoing assessment and corrections to maintain eligibility for the program incentives.  This culminated in Design Review Board consideration, and a Hearings Examiner review, public hearing and approval granted with conditions.
| Code Requirement | Compliance Path |
| --- | --- |
| City of Bainbridge Island Housing Design Demonstration Program (HDDP) BIMC 2.16.020.Qrequires Built Green 5-star certification, innovative site design and diversity of housing types | Applicant provided a conceptual proposal, held public meetings, and underwent pre-application review, to gain City Council approval for HDDP standard modifications and density bonus via underlying land use application review.  See Staff Report and Hearings Examiner Decision for more details |